You made us in the house of pain! You made us... things! Not men! Not beasts!
Welcome to today's show, my name is John. As always you can subscribe to the show on Apple Podcast or follow the links to social media in the podcast show notes. So please subscribe when you are finished listening. You can also go to classicmovierev.com to read notes, bios, and other random movie thoughts.
Today's movie is Island of Lost Souls (1932). This film is rated at 7.5 on iMDB.com[1]. The movie rates 93 percent on the Tomatometer and 82 percent audience approval on rottentomatoes.com[2]. There are two other movie versions of this film. The first is The Island of Dr. Moreau (1977), where Burt Lancaster was oddly cast as the mad doctor. The second was The Island of Dr. Moreau (1996) with Marlon Brando as the doctor.[3] Pound for pound out greatest American actor!
This film is based on an H.G. Wells' "The Island of Dr. Moreau" written in 1896. I believe this is the third film we have talked about based on Wells' writing. Earl C. Kenton directed the film. He is known for, among others, The Ghost of Frankenstein (1942), House of Frankenstein (1944), House of Dracula (1945), and The Cat Creeps (1946).
The New York Times said on January 13, 1933:
"Needless to say there is little sympathy for this demoniacal scientist. However, as it is a melodrama that hopes to make one's blood curdle, but only hopes, one can be thankful that the ape creatures permit the best actor in the tale to survive until nearly the end. Richard Arlen portrays Parker acceptably. Arthur Hohl does quite well as Moreau's agent, Montgomery. Kathleen Burke with a weird make-up interprets the rôle of Lota. Leila Hyams is attractive and quite satisfactory as the girl Parker is engaged to marry."[4]
I'm a little surprised by that review as the film holds up fairly well today. Well, on to the actors.
Actors
Returning
Bela Lugosi was great as the Sayer of the Law. Lugosi was first covered in The Wolf Man (1941).
New
Charles Laughton was cast as the mysterious Dr. Moreau. Laughton was born in 1899 in England. Laughton attended Stonyhurst, a Jesuit school. He graduated at 16 with an interest in drama. In 1917, he chose to join the British Army as a private, although his education would have qualified him for the officer corps. Late in the war, he was injured by mustard gas.
He entered the Royal Academy of Dramatic Art and graduated in 1926. He went to work on the stage and did well. His first film was the silent Blue Bottles (1928). During this filming, he met Elsa Lanchester, whom he would marry in 1929 and remain with until his death in 1962.
Laughton began working on stage in New York in 1931. He began making films right away. A few of his great films include The Old Dark House (1932), The Private Life of Henry VIII (1933), where he won a Best Actor Oscar for his role of Henry VIII, and at least for me is my mental version of King Henry VIII, White Woman (1933), The Barretts of Wimpole Street (1934), Les Misérables (1935) where he was great as the obsessed policeman, Mutiny on the Bounty (1935) as a remarkable version of Captain Blye for which he received a Best-Actor Oscar nomination, Ruggles of Red Gap (1935), Rembrandt (1936), The Hunchback of Notre Dame (1939), It Started with Eve (1941), This Land Is Mine (1943), The Suspect (1944), Captain Kidd (1945), The Paradine Case (1947), The Big Clock (1948), Arch of Triumph (1948), The Man on the Eiffel Tower (1949), O'Henry's Full House (1952), Abbott and Costello Meet Captain Kidd (1952), Witness for the Prosecution (1957) an amazing performance for which he was again nominated for a Best-Actor Oscar, Spartacus (1960), and Advise & Consent (1962).
After he met Maureen O'Hara, he was twitterpated by her beautiful green eyes. He became her mentor and helped her early career. The pair worked together on The Hunchback of Notre Dame (1939). But I want to mention his last film, Advise & Consent (1962). In this movie, he plays a venerable old southern senator. Now Hollywood has a bad habit of casting English actors to play southerners, and this mightily offends me. As you may have noticed, I don't have an English accent and just a touch of a southern accent. Laughton was so good in this role, in the pre-internet days, I thought he was a southerner. I was surprised that he studied the voice of Mississippi Sen. John C. Stennis from my native if not ancestral homeland. Stennis' voice was so country, he wasn't allowed to speak in a political commercial for almost 20-years. He sounded something like a carton country squirrel with a badly twisted tail.
The only film he is credited with directing is the phenomenal mostly black and white Film Noir The Night of the Hunter (1955). He may have directed, behind the scenes, in Burgess Meredith The Man on the Eiffel Tower (1949). The former film is listed on the National Film Registry by the Library of Congress. Laughton died in 1962.
Richard Arlen played the shipwrecked Edward Parker. Arlen was born in Minnesota in 1899. When World War I broke out, Arlen joined as a pilot for the Royal Canadian Flying Corps. He never saw combat. Following the war, Arlen drifted until he eventually got a job in Los Angles as motorcycle messager. It is commonly reported that he crashed his motorcycle into the gate of Paramount Pictures breaking his legs. When they noticed his good looks, he was offered a movie contract. Other reports say this was a manufactured story.
Arlen began working as an extra in 1921. William A. Wellman cast him as a pilot in Wings (1927). Arlen career spanned 6 decades and included films like The Four Feathers (1929), The Virginian (1929), Island of Lost Souls (1932), Three Live Ghosts (1936), Torpedo Boat (1942), Kansas Raiders (1950), Sabre Jet (1953), Blonde Blackmailer (1955), Warlock (1959), The Young and the Brave (1963), The Shepherd of the Hills (1964), Apache Uprising (1965), Young Fury (1965), Johnny Reno (1966), Anzio (1968), and A Whale of a Tale (1976). Despite missing many movies due to deafness between 1941 and 1949, Arlen amassed 180 film and television credit before his death in 1976.
Kathleen Burke played Lota, The Panther Woman. Burke was born in Indiana in 1913. Beginning at the age of 15, she worked on stage in Chicago. She was also a model and a radio voice actress. Paramount hosted a contest to find the Panther Woman for Island of Lost Souls (1932). Burke beat out 60,000 contestants. She was paid $1,000 for her major role as the Panther Woman. This film led to a short career of 22 films. However, she was typecast from the beginning. She is best-known roles include Island of Lost Souls (1932), Good Dame (1934), The Last Outpost (1935), The Lives of a Bengal Lancer (1935), and The Lion Man (1936). She died in 1980.
Leila Hyams played the heroine Ruth Thomas and fiancé of Edward Parker. Leila was born in 1905 in New York City. Her parents were vaudevillians and later film actors. Like most kids in that situation, she went on stage as soon as she could walk. As a teen, she worked as a model, and as a result, she ended up working in Hollywood.
Blonde hair, green eyes, and delicate features helped make Hyams a star. She began in silent films with Sandra (1924). By 1928, she was in leading roles in movies like Jimmy Valentine (1928). She had more important roles in The Crimson City (1928), The Thirteenth Chair (1929), The Big House (1930), and Ruggles of Red Gap (1935). However, of her 50 films, she is probably best known for two earlier horror films. These films are Freaks (1932) where she played the kind Venus and Island of Lost Souls (1932) for which she was paid $1,000 a week. After Yellow Dust (1936) she retired from film. She lived well and died in 1977 at the age of 72.
Arthur Hohl was cast in the role of Montgomery, assistant to Dr. Moreau. Hohl was born in Pennsylvania in 1889. From 1917 to 1932, he worked almost exclusively on Broadway. He then switched to film. He was a great actor and had 103 film credits. His best-known roles include Island of Lost Souls (1932), The Sign of the Cross (1932). Baby Face (1933), Jimmy the Gent (1934), Cleopatra (1934), Show Boat (1936), The Adventures of Sherlock Holmes (1939), The Hunchback of Notre Dame (1939), and The Yearling (1946). Hohl died in 1964.
Stanley Fields played the mean drunk Captain Davies. Fields was born in Pennsylvania in 1883. Fields spent seven years singing in the Trinity Church Choir[5]. He eventually became a professional boxer. A broken nose ended his boxing but caused him to transition into vaudeville. He traveled to Hollywood along with his vaudeville partner Frank Fey. Working from George M. Cohen's chorus to 106 film credits. His best-known films include The Border Legion (1930), Little Caesar (1931), Island of Lost Souls (1932), Destry Rides Again (1932), Mutiny on the Bounty (1935), The Adventures of Marco Polo (1938), and Hell's Kitchen (1939). Fields died in 1941.
Paul Hurst played the role of Donahue. He was born in California in 1888. Hurst started directing in 1914 and directed 53 films ending in 1927. His acting goes back to 1912. He ended with a staggering 339 credits, a large portion of which were westerns. Around 250 of these films were talkies. He was a squat little guy, with broad shoulders, and a raspy voice. These traits made him an excellent character actor. Some of his better-known films include Mr. Deeds Goes to Town (1936), In Old Chicago (1938), Alexander's Ragtime Band (1938), Island in the Sky (1938), Gone with the Wind (1939) where he played the Yankee deserter that Scarlet shot, which I believe is the pivotal point of that film, but more about that later, The Ox-Bow Incident (1942), and Angel and the Badman (1947). When Hurst became diagnosed with cancer, his old acting buddy, John Wayne, gave him a role in the terrible Big Jim McLain (1952). Hurst killed himself in 1953 at the age of 64.
Hans Steinke played the brute Ouran. Steinke was born in Germany in 1893. Steinke was a private in the German Army during World War I. After the war, he became a professional wrestler and was called The German Oak. Steinke started wrestling in the US in 1923. He had a brief acting career that consisted of 8 films including Deception (1932), Island of Lost Souls (1932), People Will Talk (1935), and finally The Buccaneer (1938). He died in 1971 at the age of 78.
Tetsu Komai played one of the humanlike creatures M'ling. Tetsu was born in Japan in 1894. Tetsu began working in movies in 1925, and he continued until 1964 in film and television. He had big and small parts, and he showed up in all kinds of movies. These include Daughter of the Dragon (1931), The Mask of Fu Manchu (1932), Island of Lost Souls (1932) for which he was paid $250 a week, Roaming Lady (1936), Film Noir The Letter (1940), and Adventures of Captain Marvel (1941). Tetsu died in 1970.
Story
The Convna is sailing along and spots a man in a life raft. They rescue the man and take care of him. In his delirium, he is calling for a woman named Ruth. When Parker (Richard Arlen) awakes, Doctor Montgomery (Arthur Hohl) tells him they are headed to Apia, which just happens to be where Ruth is staying, so he feels lucky and has a message sent. Montgomery says he was a doctor once upon a time.
In Apia, they get the list of the dead, and Ruth (Leila Hyams) thinks Parker is lost. Back at her hotel, she gets the radio message saying he is alive. She feels great joy.
Parker recovers on board the ship, and he goes topside with Montgomery. There are every form of wildlife in cages on the deck and a lot of dogs. The drunken Captain Davies (Stanley Fields) is upset that he didn't know about Parker being on the ship. He is also mad about having to make the trip to an unnamed island that he calls Dr. Moreau's Island.
The crew faces look messed up like a bad makeup job. One of the crew M'ling (Tetsu Komai) a humanlike creature, spills slop on the Captain, and the Captain beats him down. When Parker says something about it, the Captain swings and Parker knocking the Captain out. The crewman has hairy ears, and the dogs don't like him. Montgomery advises Parker to hide away.
The ship makes it Moreau's Island and unloads. The Captain notices Parker and decides to drop him on the island, which is technically legal as it is his first port of call. The Captain punches Parker and knocks him to the yacht below.
So, Parker is stuck with Montgomery and Dr. Moreau (Charles Laughton), and they don't expect a ship for twelve months or so. Dr. Moreau tells Parker he can go to Apia in the yacht in the morning. Dr. Moreau's crew are all hairy half-men. Some walk and act like monkeys. Others act like different animals. Against Montgomery advise, Dr. Moreau takes Parker to the house and says he has a plan. Dr. Moreau also makes Parker swear to secrecy. Ouran (Hans Steinke), a very orangutan looking half and half watches. Dr. Moreau drives the half and half's back with a whip.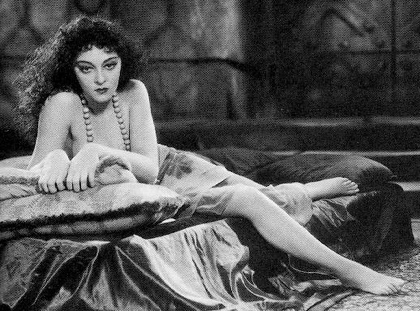 Dr. Moreau's house has bars as well as a lot of caged animals. Parker comments on how strange the natives look. Dr. Moreau ignores the comment.
At supper, Dr. Moreau, Parker, and Montgomery are having a fine time. They hear cries of pain, and the man-animals servents are upset. Montgomery asks Parker not to leave his room. Moreau sends Montgomery to the lab, and he is going to retrieve Lota the Panther Woman (Kathleen Burke). Moreau removes her from a cage. He then warns her not to talk about the law or the House of Pain. Finally, he takes her to meet Parker. Ouran really likes Lota and is hanging around. Dr. Moreau has to chase him away.
Lota is very shy. Dr. Moreau leaves the two alone. She says this island is her home. Parker thinks she is from somewhere else because she does not seem to be an animal. Parker asks questions while Dr. Moreau spies on them. Montgomery comes in and calls Dr. Moreau to the lab. Lota asks Parker not to leave. She is a little clingy. They are interrupted by cries of pain from the House of Pain. Parker runs into the House of Pain and thinks Moreau is performing surgery on a live human.
Parker tries to flee with Lota thinking that he may be next. They are stopped at the village of the half men. Dr. Moreau rings the gong from above, and all of the half things get in order. Moreau pops the whip and asks "What is the law?" The Sayer of the Law (Bela Lugosi) says "Not to eat meat, that is the law. Are we not men?" The half and half repeat a chorus of "Are we not men?" Moreau cracks the whip again and says, "What is the law?" The Sayer of the Law says " Not to go on all fours, that is the law. Are we not men?" The chorus repeats "Are we not men?" Moreau cracks the whip the third time and says, "What is the law?" The Sayer of Law says " Not to spill blood, that is the law. Are we not men?" The chorus repeats "Are we not men?"
The Sayer of the Law says Dr. Moreau is the man that makes, he is the hand that heals, and he is the House of Pain. The half things leave, and Parker and Lota are safe. Parker is a hot head and challenges Dr. Moreau. Dr. Moreau gives him a gun. Dr. Moreau takes them back to the house.
Lota is sent to her room. Dr. Moreau says he started changing plants 20 years before in London. He shows some of the flowers and plants he has changed. This led him to research with animals. Moreau believes all animal life is tending towards human form. A hurt dog running into the street got him discovered and chased out of London. Montgomery came along because he was a medical student facing a law charge.
In the lab, the thing on the table is explained to be changed from an animal to an almost human. He thinks speech from the animal was his greatest accomplishment. He lies and says someday he will create a woman, and it will be easier. One of the failed animal experiments turns a large energy crank to power the House of Pain. Dr. Moreau asks if Parker knows what it means to feel like to be God. Parker goes back to his room. Lota intercepts on the way and says goodnight. Dr. Moreau is intrigued by her display of tenderness. Moreau becomes determined to delay Parker.
In the morning, Parker finds the yacht has been sunk, and he is trapped on the island. Dr. Moreau blames the natives. In Apia, Ruth finds that Parker is not on the ship when it comes into port. Ruth gets the Consulate to force the truth out of Captain Davies and tell where he dropped Parker off. Ruth hires Captain Donahue (Paul Hurst), and they head out to Moreau's Island.
Parker is keeping his mind busy reading, and Lota is putting the bum rush on him. She insists that he talk to her, but Parker only plots to get off the island. When he says the answer may be in the book he is reading, she grabs it and throws it in the water. Parker tells her that he is in love with someone else. She rubs against him, and he kisses her before having second thoughts. When she hugs him, he notices that she has claws instead of fingernails. He now begins to understand.
Parker burst in on Dr. Moreau and calls him out about creating Lota. Parker says he will expose him to the world. Dr. Moreau knows that he can't leave. Dr. Moreau says Lota is his most perfect creation. He lets Parker know he was part of a mating experiment. Parker pops him in the head and demands to be let off the island.
Lota is wondering why she was rejected, and then Dr. Moreau comes in and demands to know how Parker found out. He sees that the beast is creeping back into Lotah. At first, he feels beaten, but when Lota cries, he is reenergized and says he will burn all of the animal out of Lota.
The ship with Ruth arrives, and she and the Captain go ashore in a small boat. The half animals warn of the coming. Ruth and Donahue see the half-animals on the island and are confused. The half animals make noises at the pair.
Montgomery and Dr. Moreau are getting ready to work on Lota, but Montgomery is stalling. They get word that the people are coming, and they make it to the gate of the island. Donahue gets his first good look at the half and half. Dr. Moreau invites them in. Parker is happy to see Ruth. Dr. Moreau locks them all in and says he may not need Parker.
Lota is watching the ongoing activity with a sad face. Montgomery tells her that she will not go to the House of Pain.
Dr. Moreau gives a drink to Donahue and says it too close to dark for them to leave through the jungle with Parker, having a good idea of what waits out there. They agree to stay the night. Parker and the Donahue are one room and Ruth in another. Montgomery has chosen on his own to not drink, a rare event. He says the natives are vegetarians, and Donahue asks about long pig (humans). The half and half's are restless. Ouran really likes the blond-haired Ruth and is hanging around the outside of the compound.
So, as they go to bed, Ouran is stalking Ruth, and Lota is stalking Parker. Parker tells Ruth to not be afraid. Ouran watches Ruth get into her undies. Dr. Moreau is happily waiting to see what happens. Ouran climbs a tree and pulls the bars on Ruth's room open. She wakes when it is too late to escape. Parker can't get through the locked door, but fires at Ouran. Montgomery is pissed about what has happened. He turns in his two-week notice. Montgomery advises them to head into the jungle for safety. Montgomery makes sure Donahue is armed and has a key to the gate. Donahue plans to travel through the jungle alone so he can get his crew for help. Dr. Moreau sends Ouran to murder Donahue. Donahue shots a few half and half's that block his path but Ouran grabs and kills him. He takes the dead body to the half and half village. They get really excited, but the Sayer of Law gets control. At first, they are turning on Ouran, but he says that Dr. Moreau told him to do it.
Ouran explains Dr. Moreau is a man that can be killed too. They all like the idea. They burn their village and head to Dr. Moreau's house. Dr. Moreau rings the gong and pops the whip. He demands the law. The Sayer of Law says, "law no more." Ouran call him out Dr. Moreau. Moreau cracks the whipping faster, but they come after him with no regard for the pain. The house half and half M'ling tries to help Dr. Moreau and is killed.
Parker, Ruth, and Montgomery retreat back to the compound. They decide to leave the gate unlocked in case Dr. Moreau makes it back. Parker decides they have to get Lota. Moreau slows the killer mob with references to the House of Pain, but it is no use. Moreau makes a run for the compound, and they have a nice montage of chasing faces running through the jungle. Dr. Moreau makes it to the open gate and shuts the gate, but the half and half's get inside.
The three other humans and Lota are heading for the ship. Ouran is still following Ruth. Lota sees him coming. She doubles back and sets an ambush. During the fight, she claws him to death, and he crushes her.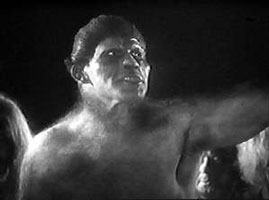 Dr. Moreau is caught against a tree near the House of Pain. The Sayer of Law says "House of Pain," and they drag the screaming Dr. Moreau into the laboratory.
Parker sees the dead Ouran, and Lota tells him to go back to the sea before she dies.
The half and half's use medical equipment to rip Dr. Moreau apart alive. He screams horribly. The other three make it to the boat. As the island burns, Montgomery tells them not to look back. I guess he is a good guy now.
World-Famous Short Summary – Lock the gate at night
I hope you enjoyed today's show. I really appreciate you spending the time listening. You can find connections to social media and email on my site at classicmovierev.com. There are links in the podcast show notes as well. Remember, this show is completely free and independent. All I ask is that you jump over to Apple Podcast and give me a review. It really helps the show get found.
Beware the moors
---
[1] https://www.imdb.com/title/tt0024188/
[2] https://www.rottentomatoes.com/m/island_of_lost_souls_1933
[3] https://en.wikipedia.org/wiki/Island_of_Lost_Souls_(1932_film)
[4] https://www.nytimes.com/1933/01/13/archives/charles-laughton-as-a-mad-scientist-in-a-pictorial-conception-of-an.html
[5] https://en.wikipedia.org/wiki/Stanley_Fields_(actor)
(Visited 8 times, 1 visits today)