Oh, yeah. I went to see my mother-in-law. She was wrestling semifinals...
Welcome to today's show, my name is John. As always you can subscribe to the show on Apple Podcast or wherever you get your podcast. Also, there are links to social media in the podcast show notes. You can also go to classicmovierev.com to read notes, bios, and other random movie thoughts.
Today's movie is Panic in the Streets (1950). This is a solid Film Noir that suffers from not having a well-played Femme Fatale. As Nancy, Barbara Bel Geddes, provides the antithesis of a Femme Fatale, in that she leads her man to success, not failure. Instead of a private eye, Richard Widmark plays a weary civil servant, who has the begrudging help of a police Captain. Jack Palance is like a rabid dog as Blackie. His sidekick Fitch is well played by Zero Mostel.
This film has a pretty low 7.3 rating on iMDB.com[1] and a 96 percent on the Tomatometer at rottentomatoes.com[2]. Of course, I lean more towards the latter. At the time of release, The New York Times critics said:

"Although it is excitingly presented, Panic in the Streets misses the mark as superior melodrama because it is not without obvious, sometimes annoying exaggeration that demands more indulgence than some spectators may be willing to contribute. However, there is an electric quality to the climax staged in a warehouse on the New Orleans waterfront that should compensate for minor annoyances which come to the surface spasmodically in Panic in the Streets."[3]
In 2005, David Lee Simmons, a New Orleans film critic, choosing to focus more on style wrote:

Expressionist and Italian Neo-Realist techniques. Kazan admired how the Expressionists used chiaroscuro lighting to heighten emotion, and he related to the Neo-Realists' cinéma vérité" portrayals of those living on the margin of society[4].
The scenes of old New Orleans were fascinating.
Actors
Returning
There are only two returning actors today. Richard Widmark was pretty good as Lt. Cmdr. Clinton 'Clint' Reed M.D. Widmark was first covered in The Long Ships (1964).
Emile Meyer showed up in a small uncredited part as Capt. Beauclyde – Master of Nile Queen. Meyer was first covered in the Film Noir Blackboard Jungle (1955).
New
Barbara Bel Geddes played homemaker Nancy Reed. Bel Geddes was born in 1922 in New York City. As part of a theatrical family, Bel Geddes was around the stage from an early age. She was acting by age 18, and it wasn't long until she was on Broadway.
She began playing the "good girl" in films. Mostly a television and stage actress she made around 14 movies which include I Remember Mama (1948) for which she was nominated for Best Supporting Actress, the Western
Film Noir Blood on the Moon (1948), Panic in the Streets (1950), Vertigo (1958), The Five Pennies (1959), and Summertree (1971). For her first four films, she was under contract to RKO. Howard Hughes had her released because "she wasn't sexy enough." She was signed by Paramount in 1958.
Bel Geddes stopped working in the late 1960s to take care of her dying husband. Following his death, she returned to work. At the age of 55, she received the television role that would make her famous. This New Yorker played the ultimate southern matriarch on "Dallas" 1978-1990. She missed the reunion shows of this popular series due to health and passed away in 2005.
Jack Palance played Blackie, the leader of a group of small-time gangsters. This great actor was born in 1919 in Lattimer Mines, Pennsylvania. That sounds like hell. It's one of those places where your best friend falls into a molten vat of iron after telling you to follow your dreams.
Palance's father was a coal miner that died of Black Lung. However, this didn't stop Palance from working in the mines for a time. At almost 6 foot 4 inches, Palance was a great athlete, something that he used in many of his roles. He won a football scholarship to the University of North Carolina. He left this to try professional boxing. He did well until he met a ranked contender in 1940.
Palance joined the Army Air Corp during World War II. He was injured by fire during a training flight in 1942. He had several surgeries and was discharged in 1944. He then studied journalism at Stanford University. He worked as a sportswriter, but he was called to act.
Palance began working on Broadway and at one point became the understudy for Marlon Brando in "A Streetcar Named Desire." The pair was working out, and Brando took a shot that sent him to the hospital. Palance took his place on stage. His great work on stage got him a film contract with 20th Century Fox. His first film was the Film Noir Panic in the Streets (1950), and he was amazing, like on an animal on the hunt, he teamed with Richard Widmark for the World War II film Halls of Montezuma (1951), he was up for the role of Gort in The Day the Earth Stood Still (1951) but was replaced by a taller actor, he was in two more Film Noirs, Sudden Fear (1952) and Second Chance (1953) which was a rare 3D, he was in Westerns Arrowhead (1953) and Shane (1953) for which he should have received an Oscar nomination. In 1954, he played Attila the Hun in Sign of the Pagan (1954) and was in the Biblical drama The Silver Chalice (1954). He put in great performances in two more Film Noirs with I Died a Thousand Times (1955), a remake of Humphrey Bogart's High Sierra (1941) and The Big Knife (1955) where he was in Hollywood and under pressure to confess to a crime. He was amazing in Attack (1956) where he battled with a cowardly company commander played by Eddie Albert with Lee Marvin as the battalion commander. He played a returning Nazi soldier that defuse bombs for the English in captured Berlin in Ten Seconds to Hell (1959), and again he was amazing. He worked overseas and made films such as Revak the Rebel (1960), Barabbas (1961), Sword of the Conqueror (1961), and A Bullet for Rommel (1969). Through his later career, he showed up as a bad guy in films like Young Guns (1988). However, he showed his real talent in City Slickers (1991) where he won the Oscar for best supporting actor for Curley. He returned in the sequel City Slickers II: The Legend of Curly's Gold (1994) playing the brother of the dead Curley, Duke. We should never forget Curley's words to Mitch Robbins, played by Billy Crystal – "I crap bigger than you!"
When Palance was on stage to accept his Oscar for City Slickers (1991), he made a comment about casting directors preferring younger actors. He then dropped and did several one-armed pushups. Palance died at 87 of natural causes in 2006.
Zero Mostel played small-time hood, Raymond Fitch. Mostel was born in 1915 in New York City. Mostel was interested in art from an early age and eventually graduated from CCNY in 1935 and worked on a master's in arts before dropping out. In the heart of the Great Depression, Mostel found work teaching art for the WPA Federal Art Project. He gave art tours and told funny stories. After World War II broke out, he found work as a comedian in nightclubs and picked up the name Zero because he started with nothing.
Mostel began working in theater and made his Broadway debut in mid-1942. He spent some time in the U.S. Army but was medically discharged. After his discharge, he entertained troops stationed overseas. Following the war, Mostel began to get work in television. His first film was Du Berry was a Lady (1943), but he didn't get going good until Panic in the Street (1950). Being a large man, Mostel said he never forgave Kazan for making him run so much during filming.
He made five more movies that were released in 1951. However, Jerome Robbins testified before the un-American House Un-American Activities Committee and name Mostel as a communist. Mostel was called before the illegal star chamber on October 14, 1955. He stated that he was not a communist and that his religious convictions prevented him from naming others. He was placed on the blacklist. During this time, he made a living working lower end nightclubs and selling art. He ran into Kazan, who named names to keep his career and told him repeatedly "Ya shouldn't a done that. Ya shouldn't a done that."
Mostel began working back on stage in 1958 thanks to Burgess Meredith. He won a Tony award and missed one play because he was hit by a bus. He recovered and returned to work. For "A Funny Thing Happened on the Way to the Forum" he was asked to work with Robbins who had named him and fellow cast member Jack Gilford as communists. Mostel said work yes, eat no and the left does not have a blacklist. When Robbins came in for his first rehearsal, Mostel said "Hiya, Loose Lips!" Everyone laughed, and the tension was gone. Mostel got another Tony for this play. Mostel went on to "Fiddler on the Roof" and won another Tony.
Mostel was hilarious in A Funny Thing Happened on the Way to the Forum (1966) and the Mel Brooks directed The Producers (1967) showing what a great talent he had for comedy. For some reason, he was not cast in Fiddler on the Roof (1971). In 1974, Mostel returned to the theater. After a few more successes, in 1977, he died suddenly from an aortic aneurysm at the age of 62.
Paul Douglas played the role of police Capt. Tom Warren. Douglas was born in 1907 in Pennsylvania. Born to a well-off family, Douglas played semi-pro football after high school. In 1928, he became a radio sportscaster. He became one of the highest paid radio personalities in the US. In 1936, he worked on Broadway in "Double Dummy." He quickly returned to radio.
In 1946, he took 1/10 of his salary to play the heavy in Broadway's "Born Yesterday." This propelled him to Hollywood, where in his first credit role, A Letter to Three Wives (1949), he did great, opposite, Linda Darnell. He turned down the film role for Born Yesterday (1950) because his role was cut to almost nothing.
He made two more movies with Linda Darnell, Everybody Does It (1949) and The Guy Who Came Back (1951). He is better known for two baseball films, It Happens Every Spring (1949), and Angels in the Outfield (1951). He hit the Film Noirs with Panic in the Streets (1950), Fourteen Hours (1951), and Clash by Night (1952) with Barbara Stanwyck. He was reteamed with the wonderful Judy Holliday in The Solid Gold Cadillac (1956). One of my favorites is The Big Lift (1950) about the Berlin Airlift and co-starring Montgomery Clift.
He returned to theater in 1957. In total, Douglas was married five times. The last two marriages were too beautiful actresses Virginia Field and Jan Sterling. So, not too shabby. He did some television work but died suddenly in 1959. He was 52 years old.
The director of this film Elia Kazan jumped into the uncredited role of Cleaver, a Mortuary Assistant. Kazan was born in 1909 in Constantinople which is now known as Istanbul. I'm only going to say a little about this guy. He was a director, and he was a good one. He named names. Some of the movies he directed are A Tree Grows in Brooklyn (1945), Gentleman's Agreement (1947), The Sea of Grass (1947), Film Noir Boomerang! (1947), Panic in the Streets (1950), A Streetcar Named Desire (1951), On the Waterfront (1954), East of Eden (1955), Baby Doll (1956), A Face in the Crowd (1957), and Splendor in the Grass (1961). However, he named names. Kazan died in 2003.
Tiger Joe Marsh was uncredited as the Bosun on Nile Queen. Marsh was a wrestler beginning in the 1920s, and he was the Worlds Heavyweight Wrestling Champ in 1937. He retired in 1954 and found movie and stage work as a thug or a brute. He was the model for the original Mr. Clean.
Tommy Rettig was uncredited in the role of youngster Tommy Reed. Rettig had the misfortune of appearing in the worst, maybe as bad as that Jim Carry stuff, adaption of a Dr. Seuss story, The 5,000 Fingers of Dr. T. (1953).
Story
A poker game is taking place above a jazzy low-end night club in New Orleans. One of the players goes outside for air, and the others call him back to the games. The man, Kochak (Lewis Charles) comes back to the game saying he is sick, and he must leave the game. But this is the kind of poker game it is hard to leave when your ahead. Raymond Fitch (Zero Mostel) mentions that the man just came in off a ship and that Blackie doesn't like anyone to leave a game like that. Kochak leaves anyway.
Upstairs Blackie (Jack Palance) examines the cards and decides he has been cheated. He tells Fitch and Poldi (Guy Thomajan), who is Kochak's cousin, to follows the sick man. Poldi and Fitch follow the sick man into the street. They follow him across the tracks where he is narrowly missed by a speeding train. The two men corner Kochak who somehow starts winning the fight. From off camera Blackie fires a few shots killing Kochak. Blackie takes the money, and the other two take the body.
In the morning, a young boy leads the police to where the body has settled in the Mississippi River. The police collect the body and have it sent to the morgue. Cleaver (Elia Kazan) gets the job doing the autopsy. Cleaver who has been pretty caviler with the body up to this point sees something and starts warning people to stay away.
Lt. Cmdr. Clinton 'Clint' Reed M.D. (Richard Widmark) is spending his day off with his young son Tommy (Tommy Rettig). Clint's wife Nancy (Barbara Bel Geddes) lets him know he has a call from the office. Clint gets dressed in his U.S. Public Health Service uniform while he spars with Nancy about money and having more children.
At the city morgue, they look at cultures under a microscope and Clint orders the body cremated and everything sterilized. Clint makes sure all the people that have contacted the body are held at the morgue. They give everyone an inoculation. Clint won't tell the men why they are getting shots.
Clint briefs the city council and tells them it may be pneumonic plague, an airborne version of the Black Death from the Middle Ages. They are very skeptical. The Mayor, Chief of Police, and police Captain Tom Warren (Paul Douglas) are present, but they all downplay the danger because Kochak was killed by a bullet. Clint tricks Warren into admitting that someone dumped the body. Clint doesn't want the press notified. With the Mayor's support Warren is assigned to work with Clint.
The newspaper men are already sniffing around as the police begin to haul in everyone that could have possibly killed anyone. Raymond Fitch is hauled in, but he plays dumb. There is very little evidence on the dead man for the police to work on. Clint thinks he came in on a boat. Warren doesn't like doctors because one let his wife die many years earlier. There is a lot of bad blood between Clint and Warren already.
Once he is released by the police, Fitch runs to Blackie's place. He meets his wife Angie (Mary Liswood), and they are prepared to leave town. Blackie is planning on leaving too, but he doesn't want Angie to come along. Fitch was supposed to bring Poldi, but he refused to come. Because of all the police attention, Blackie thinks Kochak brought something in, and Poldi has it. Blackie brutally sends Fitch out to find Poldi. In 1986, Widmark said Palance warmed up by beating on Zero Mostel, and once they had to send him to the hospital where he was soaked in Epsom pads.
Clint goes to the sea man's local, which is full of men. He makes an announcement and tries to pass out pictures of Kochak. He offers a $50 reward. The men all clam up. Clint goes to Frank's Place to wait for the information. The bar is a real crumby place. A young woman Jeanette (Lenka Peterson) who looks very out of place comes in and says she has information. She leads him to a boat where he is surprised by a semi-hostile Charlie (Wilson Bourg Jr.). Charlie denies everything, but Jeanette gives it away when she finds out about the disease. Charlie finally tells that the ship is the Nile Queen. Clint then gives him a shot.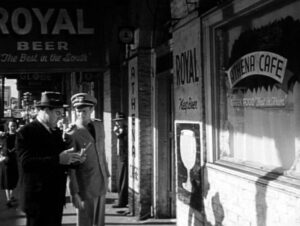 Warren and Clint fly out to the Nile Queen in a seaplane. The ship Captain (Emile Meyer) is super hostile. Clint tells the crew that ship may have the plague. At the Captains orders, the Bosun (Tiger Joe Marsh) tries to force the men back to work. A small riot breaks out. The Captain orders weapons brought out. A Chinees cook says they have another sick man and the Captain gives in. Warren finds out that Kochak is Greek or Armenian.
Back in New Orleans, Clint and Warren go to see the owner of a Greek restaurant. The couple that owns the place denies ever seeing Kochak even though the wife is already sick. Fitch and Poldi are in the back. Blackie comes in, and the newspaperman is outside. Poldi is getting sick. He has brought in his younger brother Vince (Tommy Cook). Blackie and Fitch put the squeeze on Poldi. Poldi blurts out that his cousin didn't bring anything into the country. Violet (Darwin Greenfield) comes in to get money from Blackie. Poldi makes a break, and Vince blocks Fitch as they get away.
That night Clint and Warren go to see Charlie, but his boat is gone. They get a radio call that a woman is sick with a fever that matches the profile of what they are looking for. When they get there, the dead woman is the wife of the restaurant owner. The owner recants and gives Kochak name and where he was staying. The newspaper man is lurking outside.
They rush over to the Gloria Hotel. The newspaperman is right behind them. The search Poldi's room and the manager says a couple of guys were looking for him. When the newspaperman enters the boarding house, Clint tells him the truth, and then Warren has him locked up.
Clint goes to his house, and Nancy can't come near him because he is contaminated. Nancy tries to help, but he is snappy. She makes a cot for him on the porch. Clint is worried about Warren getting in trouble over the newspaperman. Nancy pumps him back up and gives him the will to continue. She also drops on him that she is pregnant. He finally passes out.
Later, Clint is called to meet Warren and the Mayor in a city park to avoid reporters. The Mayor plans to give the full story to the reporter. Clint still wants to keep a blackout on the news. The Mayor gives the story to the reporter. This leaves Clint and Warren four hours to wrap up the investigation.
Blackie goes to see Poldi's mother. He gives her the name of a doctor for her son. When Blackie finds out the location, he finds Fitch already with Poldi. Fitch thinks Blackie is going to kill Poldi, but Blackie wants what Kochak brought in to the country. A nurse comes in and says she has already called an ambulance for Poldi. Vince comes in with the doctor. Since the doctor is paid by Blackie, he plans to keep the sick man in the apartment. Finally, they decide to move Poldi to a "private hospital."
Blackie and crew begin carrying Poldi downstairs on his mattress. The nurse comes back with Clint. To escape, Blackie tosses Poldi down a couple of flights. Blackie and Fitch steal a truck and escape. Warren arrives in a police car, and they give chase. The two criminals flee into a large coffee warehouse, which oddly is processing bananas.
The police swarm the building. Blackie and Fitch run along the roof but jump back inside when the police fire at them. They slide to the lower floor of the coffee warehouse and run through to the dock. Another police car forces them back inside.
A security guard recognizes Blackie and is very friendly. When the police start hollering to stop Blackie, he kills the security guard. Clint wants to capture them alive much to the chagrin of the tactical captain. Fitch can't take any more running.
Clint goes into the building and yells to the criminals that they may have the plague. Blackie won't give up, and he and Fitch escape through a hole in the floor. They are moving along on wet planks under the dock. Clint follows them. Clint finds Fitch in a rowboat, but Blackie is above and knocks Clint out. Widmark said Palance practiced with a rubber gun and then hit him with a real gun during the scene, knocking Widmark out for 20 minutes. Widmark also said Palance was the only actor he was physically afraid of.
Blackie is about to kill Clint when Warren fires from a distance. Fitch gives up, and Blackie escapes up a ladder.
Blackie crawls along the dock until he makes to the tie ropes of a cargo ship. He does pretty good climbing until he makes it to the squirrel excluder. When he falls in the water, Warren has him fished out.
Warren drives Clint back to his home. He mentions that they found $200 or $300 dollars' worth of undeclared perfume in Poldi's apartment. They laugh and are friends. Clint gets a lecture on spending time with his son from the neighborhood painter. Clint reminds Nancy that he remembers about the baby.
World-Famous Short Summary – Follow your doctor's instructions
I hope you enjoyed today's show. I really appreciate you spending the time listening. You can find connections to social media and email on my site at classicmovierev.com. There are links in the podcast show notes as well. This is an independent show, and there is a lot that you can do to help. First, and most importantly jump over to Apple Podcast and give me a review. It really helps the show get found. If you want to comment, help, or recommend a movie, email me.
Beware the moors

---
[1] https://www.imdb.com/title/tt0042832/?ref_=nv_sr_1?ref_=nv_sr_1
[2] https://www.rottentomatoes.com/m/panic_in_the_streets
[3] https://www.nytimes.com/1950/08/05/archives/the-screen-in-review-panic-in-the-street-new-bill-at-roxykiss.html
[4] As cited in Wikipedia. Gambit Weekly film review April 5, 2005: Widespread Panic Retrieved 2011-11-25.
(Visited 36 times, 1 visits today)