Judas, how'd you wind up in a smelly ditch in Korea?
Welcome to today's show, my name is John. As always, you can subscribe to the show on Apple Podcast or wherever you get your podcasts. Also, there are links to social media in the podcast show notes. You can also go to classicmovierev.com to read notes, bios, and other random movie thoughts.
Today's movie is The Bridges of Toko-Ri (1954). Based on the James Michener novel, this movie is set during the Korean Conflict. The movie covers two themes; what do you do when you are assigned an impossible job, and how much do you owe for favors.
This movie is rated a fairly low 6.8 on iMDB.com[1]. It has an 80 percent score on the Tomatometer on Rottentomatoes.com but only a 62 percent audience score[2]. I have read the book, and I'm a big William Holden fan, but dang, the movie is better than that. I mean it did win an Oscar for Best Effects.
Film critic Bosley Crowther of The New York Times said of the film: "William Holden, who plays the pilot, shows a man of mature intelligence, collecting himself for a perilous effort, from which he sees there is no backing down. Fredric March as the paternalistic admiral fairly cracks with the tension of concern, and Charles McGraw as the air group commander carries grave responsibilities with grim resolve. Grace Kelly is briefly bewitching as the pilot's wife, who visits him in Japan, and Mickey Rooney is a pint-sized tornado as a helicopter pilot who loves to clown and fight. Robert Strauss, Earl Holliman, and Richard Shannon are solid as other personnel.[3]"
Actors
Returning
William Holden is the center of the story as Lt. Harry Brubaker, a Navy pilot that is called back to duty for the Korean Conflict and feels he has already done his part in World War II. Holden was covered in his masterpiece Stalag 17 (1953).
Fredric March plays Rear Adm. George Tarrant. Tarrant has lost a son, and he sees his boy in the pilots he repeatedly sends into harm's way. March was first covered in the original The Buccaneer (1938).
Charles McGraw, who is always great, played the gruff and demanding air commander, Cmdr. Wayne Lee. McGraw was first covered in the great railroad Film Noir The Narrow Margin (1952).
Mickey Rooney played the helicopter flying and green hat wearing Mike Forney. Rooney was first covered in the Film Noir Requiem for a Heavyweight (1962).
Earl Holliman played the role of Nestor Gamidge, the guy that jumps into the sea to rescue pilots. Holliman was first covered in the Film Noir The Big Combo (1955).
Willis Bouchey had a relatively small role as ship Capt. Evans. Bouchey was first covered in the western The Violent Men (1955).
Robert Strauss also had a small role as Beer Barrel, the landing guy. Strauss was originally covered in the fantastic William Holden film Stalag 17 (1953).
New
Grace Kelly played Nancy Brubaker. She was born in 1929 in Pennsylvania. With a desire to be an actress, following high school in 1947, she traveled to New York. Grace worked in early television, as a model, and in 1949, she debuted on Broadway.
She headed to Hollywood and made her first movie, Fourteen Hours (1951). This lovely actress turned in some very fine work. She was in a leading role in the politically charged film High Noon (1952) with Gary Cooper. The following year she was in Mogambo (1953) with Ava Gardner and Clark Gable. Grace became one of those blondes that worked extensively with Alfred Hitchcock. She worked with Hitchcock on Dial M for Murder (1954), Rear Window (1954) with Jimmy Stewart, and To Catch a Thief (1955) with Cary Grant. Of course, she was in The Bridges of Toko-Ri (1954). She won the Oscar for Best Actress that same year for her role in The Country Girl (1954) opposite Bing Crosby. She teamed with Bing Crosby and Frank Sinatra for her final film, which was High Society (1956). She met and married Prince Rainier of Monaco becoming Princess Grace. She lived the royal life and raised her children until 1982 when she was killed in an auto accident. She was 52 years old.
Dennis Weaver played an uncredited Air Intelligence Officer. I've been skipping over Weaver for a while, and I can't continue to avoid him. Weaver was born in Missouri in 1924. Weaver was a good track athlete at the University of Oklahoma but he left to fly fighters for the U.S. Navy during World War II.
Following the war, he began studying acting at the Actor's Studio. This led to work on Broadway. In 1952, he began playing bits in western films. Weaver got his first major role on television when played "Chester Goode," the limping deputy of "Matt Dillion" on "Gunsmoke" 1955-1964. One film role that stands out during this period was that of shaky Mirador Motel Night Manager in the Film Noir classic Touch of Evil (1958).
He eventually left "Gunsmoke" to seek leading roles such as that in televisions "Kentucky Jones" 1964. However, this show was quickly canceled and not much followed until he was almost the only actor in the Steven Spielberg directed Duel (1971) where Weaver's character was locked in a life and death battle with a semi-truck.
Weaver hit it big when he was cast in "McCloud" 1970-1977. Loosely based on the Clint Eastwood film Coogan's Bluff (1968), Weaver played a cowboy detective from Taos, New Mexico, that ends up solving crimes in New York City. He used his western wit, as well as horses, and lassos to solve crimes while he fought incessantly with his wisecracking New York chief.
Following McCloud, he occasionally showed up on television. Weaver died in 2006.
Story
The movie opens on the carrier deck. Rear Adm. George Tarrant (Fredric March) is watching over everything from the conning tower of the USS Savo Island. The filming took place on the USS Kearsarge and the USS Oriskany, which is now part of a reef off Florida. They are alerted to prepare to recover jets. Mike Forney (Mickey Rooney) runs to his rescue helicopter and is warned not to put on his hat until he is away from the ship. Forney's assistant is Nestor Gamidge (Earl Holliman). Nestor hands Forney a bright green stovepipe hat and scarf. Forney says the hat makes the pilots that are down in the water feel good when they see his green hat coming to save them.
Four jets come in, and they are low on fuel. They are flying Navy blue Grumman F9F-2 Panthers, and man are they beautiful. Cmdr. Wayne Lee (Charles McGraw) begins to land first. On the deck, Beer Barrel (Robert Strauss) uses two flags and two spotters to bring the planes in manually. I would drink too.
They get Lee down okay. Lt. Harry Brubaker (William Holden) calls in a flameout. In other words, the engine stopped because it is out of gas. That's okay because these era jets had a glide ratio at least as good as a brick.
Capt. Evans (Willis Bouchey) is commanding the CIC and Tarrant goes in to find out the status of the jet. It is 18-miles out and will have to go down in the sea. The helicopter is dispatched to the landing/crash site.
Brubaker lands on the water just like he planned it. The jet went down, but Brubaker is in the frozen water. When Tarrant finds out it is Brubaker, he is very concerned. He also says Brubaker's wife and kids are in Japan. After Tarrant leaves, Capt. Evans tells another man that the admiral takes a special interest in the men that look like his deceased son.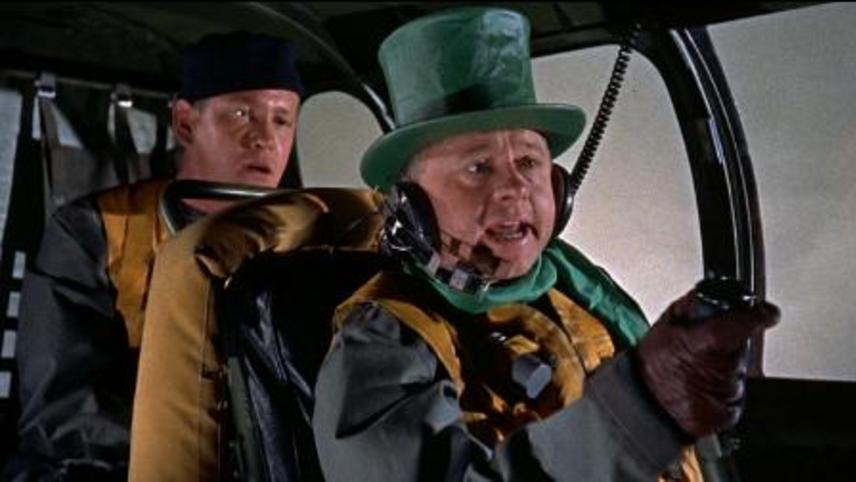 Forney and Nestor arrive at the crash site. Nestor goes in the water to hook up Brubaker. Nester is picked up by another helicopter. CIC lets Tarrant know that Brubaker is safe. Lee goes to visit Brubaker in the hospital and tells him the admiral wants to see him.
In the meeting between Tarrant and Brubaker, they discuss the crash, the green hat, and the need to get back into the war. Brubaker is bitter because he has been called back to duty and the reserves were not called up. They discuss why Brubaker doesn't fake it for the flight surgeon and get out of flying. Tarrant mentions the bridge at Toki-Ri and Brubaker is a little shocked. Finally, he tells Brubaker that his wife Nancy (Grace Kelly) and their kids are in Japan.
Three days later, the carrier arrives in Japan. To get into the harbor, the ship must make a weird turn. They are using the engines of the prop planes to help the ship engines. The flight commander, Lee, blows up about the strain on the engines and goes to see the admiral. The admiral is debating submitting Lee for a promotion. Tarrant bluffs Lee and is disappointed when Lee easily backs down. He decides not to send him for promotion.
The men all get dressed and leave the ship to meet their loved ones. Nancy is on the dock. Forney is planning on meeting his Japanese girlfriend. Beer Barrel takes two golf bags with him. Forney's girlfriend dumps him right away. Brubaker and Nancy go to meet the kids at a swanky hotel. Later the admiral comes to meet Nancy.
During dinner, Nestor comes to tell that Forney got in a fight because his girl is marrying another man. Even though he doesn't want to, Brubaker goes 60-miles to Tokyo to help the rescue pilot. Tarrant explains to Nancy why it is important to help Forney. He also explains how bad his son's wife took everything when her husband died. He also explains how the death of her second son affected his own wife.
Grace Kelly can't act; she just hangs around and looks great.
In Tokyo, Brubaker explains how Forney saved his life. Brubaker pays the damages and gets Forney released. Forney begs Brubaker into being a marriage counselor. They meet the Japanese girl at a dance club. When she refuses to change her mind, Forney tries to rip her dress off. Nestor has to knock him out so they can escape.
When Brubaker gets back to Nancy, she makes him tell about the bridges at Toko-Ri and boy does it sound bad. The next day they do a bit where they have to share a mineral bath with a Japanese family of the same composition. I guess it shows people are different but the same. But alas, back to the ship.
Beer Barrel comes back with two golf bags loaded with beer. Nancy and Brubaker say goodbye, while Nestor and Forney come back with different Japanese girls. Forney sees his old girlfriend with a guy from another ship. He swings on the guy, but the guy gives him a beating. It turns into a mob fight.
Lee will be conducting a flyover of the bridges of Toko-Ri to take pictures. Brubaker is going along as his wingman. They have some really great shots of the catapult launch. At least as good as Top Gun (1986). They fly over the mountains and make it to the valley where the bridges are located. When they begin their run, the sky lights up like Bagdad on a Saturday night.
Lee thinks his jet may have been hit because he felt a bump and a warning light came on. Brubaker flies under him but doesn't see anything. Lee's plane doesn't catch a hook because of the damage and rips through the barricade. They have to wave off Brubaker. Brubaker has to ditch in the ocean or land on the uncleared deck with a giant crane as a net if he misses his hook. He decides to land on the deck. Beer Barrell guides him in, and his jet is hooked inches from crashing into the crane. Tarrant is nervous as a sore-tailed cat in a room full of rocking chairs.
Brubaker finds out that Forney and Nestor are being transferred to a helicopter squadron. Forney tells Brubaker that when he gets nervous, he should go to the front of the ship and feel the spray. A destroyer comes alongside, and they are sent over in baskets. Forney wears his hat and scarf for the crossing.
An officer (Dennis Weaver) gives them a briefing about their primary attack on Toko-Ri and their secondary target. When they show the film, Lee took, Brubaker, is sweating and about to have a panic attack. The rest of the pilots don't look too go either. They form into three attack groups. Brubaker leaves the briefing early and goes to the chow hall for coffee. It seems odd to him that pro football games are being played in the states and no one is thinking about the war. He goes to his room and is startled by the sounds of jets taking off.
Brubaker settles down and begins writing a goodbye letter to Nancy. However, he can't finish it that way, and he makes it a generic love letter that speaks of the good times. The jet noise is still driving him crazy. Lee comes in and asks to decide if he is okay to fly. Brubaker goes to the front of the ship and feels the spray on his face. Then Rose opens her eyes and says were flying. Oh, wait. Wrong movie.
The admiral sees Brubaker on the front of the ship and knows that he is near the end.
At 1500, the pilots, including Brubaker, get into their jets. Now that's 3 PM for civilians, 6 bells for Navy, and for the Marines, the big had is on the… A helicopter is standing by, but it is not Forney and Nestor. Again, very nice launch scenes. The admiral watches Brubaker take off. The formation assembles and flies over the mountains to the bridges of Toko-Ri. One group dives down to bomb the anti-aircraft guns while the others make the runs on the bridges. They get everything except for one railroad ridge. They go in for the second run. Lee gets the last bridge and then tells the jets to rendezvous and make ready to head for the second target. Brubaker looks back at the bridges and feels safe.
They begin attacking the next target, which is a rail yard and fuel dump. When Brubaker makes his run, he is hit by something. Lee flies under his jet and sees that it is venting hydraulic fluid or fuel. Lee decides that it is fuel. Lee stays with Brubaker and thinks he can make it to the sea for helicopter pickup.
Brubaker gives the mayday call. Forney and Nestor are sent out for the rescue. The fuel leak increases and finally Brubaker runs out of fuel. He has enough altitude to make it to the water if he can get over the ridge. Brubaker decides to crash instead of bailing out as the enemy likes to shoot at parachutes.
They pick out a field, with an irrigation ditch, for Brubaker to crash in. I don't believe in crash landings. One of the other! Brubaker gets the jet down in the field and runs to the irrigation ditch for cover. The Commies are already shooting his jet with large rounds. Brubaker has a small 0.38 pistol for protection.
The Commies come out of the wood line and are sniffing around the jet. Two Navy jets come in and strafe the enemy. However, they are low on fuel and have to head back to the carrier after a couple of passes.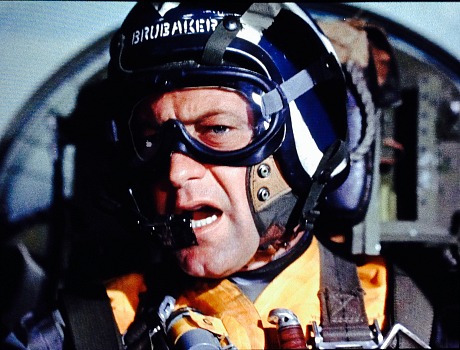 Brubaker sees more Commie coming, and suddenly others start firing at him from behind. About this time some Navy propeller planes come in and wear the Commie out. They cover the approach of the rescue helicopter. They almost have Brubaker when some Commies with a machine gun shoots the helicopter down. Nestor is killed getting out of the helicopter. The propeller planes take care of the machine gun and some other Commies. Forney makes it to the ditch with a couple of rifles. The propeller planes leave because they are out of ammo. Forney says another helicopter won't be coming because it is getting dark. Brubaker says something that the admiral said earlier. He said something like "Men fight the wrong war at the wrong place, and that is the one you are stuck with. They fight just because they are there."
The Commies begin working towards the two men in the ditch closing from both directions. Forney gets killed by a grenade. Brubaker is shot to death in the trench.
Later, back on the USS Savo Island, Admiral Tarrant goes to chew out Lee for leaving Brubaker behind. When the admiral finds out that Brubaker was hit during the secondary target run, Lee has to defend his actions. He stands up like a man. He tells the admiral that Brubaker was his boy too. The admiral realizes he was wrong. As the Admiral wonders how they get the kind of men that would do a job like this. Jets are already being launched for another mission.
Notes
Brubaker was sure he was going to die hitting the bridges of Toko-Ri. He was killed as a result of hitting a secondary target. It's like going into the swamp and watching out for the alligators while you are slowly bitten to death by mosquitos.
Forney/Nestor had a bond of generalized reciprocity going. Pull one out of the sea, get one out of jail, attempt to rescue behind enemy lines, and so on. They did good deeds for each other.
World-Famous Short Summary – No good deed goes unpunished
I hope you enjoyed today's show. I really appreciate you spending the time listening. You can find connections to social media and email on my site at classicmovierev.com. There are links in the podcast show notes as well. This is an independent show, and there is a lot that you can do to help out. First, and most importantly jump over to Apple Podcast and give me a review. It really helps the show get found. If you want to comment, help, or recommend a movie, email me.
Beware the moors

[1] https://www.imdb.com/titlffe/tt0046806/
[2] https://www.rottentomatoes.com/m/bridges_at_tokori
[3] https://www.nytimes.com/1955/01/21/archives/the-screen-in-review-bridges-at-tokori-is-fine-film-of-war.html
(Visited 22 times, 1 visits today)