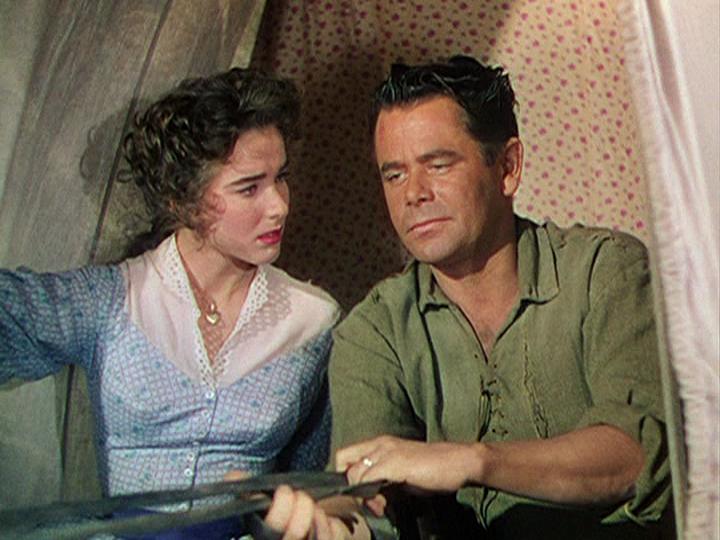 The worse that can happen to you is that somebody will say you died a hero. That man's going to be called a coward the rest of his life
Welcome to today's show, my name is John. As always you can subscribe to the show on Apple Podcast or wherever you get your podcasts. Also, there are links to social media in the podcast show notes. You can also go to classicmovierev.com to read notes, bios, and other random movie thoughts.
Today's movie is The Man from the Alamo (1953). This film has a pretty low rating of 6.5[1] on iMDB.com. It fares a little better on rottentomatoes.com with a 100 percent on the Tomatometer based on a few reviews and 70[2] percent audience approval, which is about the same as the iMDB rating.
The New York Times film critic at the time of release didn't really care for it either, saying:
Universal-International's respectable, old-fashioned outdoor melodrama, "The Man From the Alamo," is another medium-budget "historical" Western of strictly medium, unhistorical significance.… at least begin right by dispatching their Texan hero, Mr. Ford, from the Alamo siege to his upstate home, where he is promptly ostracized for cowardly desertion. Actually, it's a pleasure to find a Western protagonist as cynical and independent as Mr. Ford, for all his great big heart underneath. However, his grimly sealed lips make the entire picture one of those annoying enterprises that might have evaporated from one spoken sentence. For Mr. Ford is no coward or deserter, you can bet your life, having been delegated by the Alamo Texans to return and safeguard their families. Another cause for wonderment is why the studio persists in putting the lovely, capable Miss Adams, as the hero's one friendly sponsor, out to pasture. Chill Wills, Victor Jory, Hugh O'Brian and Butch Cavell fill supporting roles competently enough. And we still would like to know why "The Man From the Alamo" elected to keep his mouth shut.[3]
Actors
Returning
Sadly, we lost Julie Adams on February 3, 2019, at the age of 92. Ms. Adams played Beth Anders and please consider this my humble tribute to her. Julie Adams was first covered Episode 63 – Creature from the Black Lagoon (1954) where she was the object of the creature's affection.
Glenn Ford was very good as the falsely accused deserter John Stroud. Ford was first covered in Episode 35 – Blackboard Jungle (1955).
Chill Wills played the one-armed grouch John Gage. Gage had a strong dislike for Stroud. Wills was covered way back in Episode 3 – McLintock! (1963).
Neville Brand was great in the role of an anti-independence fighter/robber named Dawes. Brand was first covered in Episode 30 – Birdman of Alcatraz (1962).
Stuart Whitman was uncredited as an Orderly, but I never saw him. Whitman was covered in Episode 16 – Night of the Lepus (1972)
New
Hunk-a-rama Hugh O'Brian played Lt. Lamar. Lamar made the entire arc during the movie. O'Brian was born in 1925 in upstate New York. O'Brian graduated from Kemper Military School in Missouri. He was a good athlete and began studying law at the University of Cincinnati. In 1942, at the age of 19, he left school and joined the Marine Corps. He was assigned to be a Drill Instructor. After World War II, O'Brian was discharged in Los Angles.
His plan was to study law at Yale in 1947 using the G.I. Bill. While earning money to buy a car, he ended up working at Schwab's Sunset Strip Drugstore, a hangout for the acting set. He began dating an actress and the only way he could see her was to go to her rehearsals. The leading man failed to show up, and O'Brian got the role. A bit part in Never Fear (1950) directed by Ida Lupino got him noticed and signed to a contract at the age of 25.
He was used mostly as a background player in films like Red Ball Express (1952), Son of Ali Baba (1952), Seminole (1953), and The Man From the Alamo (1953). He left Universal in 1954 and scored big the next year with the television series "The Life and Legend of Wyatt Earp" 1955-1961. O'Brian worked until 2000, mostly in television but with films like Ten Little Indians (1965), In Harm's Way (1965), The Shootist (1976), Game of Death (1978), the one they pieced together after Bruce Lee's death, and Twins (1988) with Arnold Schwarzenegger and Danny DeVito. O'Brian died in 2015.
Victor Jory played Mexican sympathizer and bandit Jess Wade. Jory was born in Canada in 1902. Jory served in the U.S. Coast Guard during World War II. He was a military wrestling and boxing champion. Following the war, he began working on Broadway. He made his first movie in 1930 and had a career going by 1932.
He had a dark and angular look, and he mostly played bad guys. He was in a bunch of westerns. He played Oberon, King of the Fairies in A Midsummer Night's Dream (1935). He played the super angry field overseer in Gone with the Wind (1939). iMDB says he had a sympathetic role in Cat-Women of the Moon (1953), but I have not seen it. He was back to bad guys in The Man from the Alamo (1953). He played an Egyptian chief in Valley of the Kings (1954), that's the one where you can hit your crew. He was on televisions "Manhunt" 1959-1961. In The Miracle Worker (1962) he played the unhelpful father of Helen Keller. He had a very odd role in A Time for Dying (1969) as Judge Roy Bean. I recently watched this film because it was hailed as Audie Murphey's best work. It wasn't worth the time to see Audie's few scenes. He played an Amazonian chief in the escape from Devil's Island film Papillon (1973) with Steve McQueen and Dustin Hoffman. He continued working until 1980 when he retired. He was the original narration voice of the Cyclorama in Atlanta, Georgia until replaced by James Earl Jones. Visits the Cyclorama if you get a chance. I first went there when there was no narration, and a lady with a flashlight told the story from memory. Jory died at the age of 79 in 1982.
Story
The movie begins with the Texas apology bit where the nice Anglos are being good Mexican citizens. Then the bad old Santa Anna takes over. Poor old Sam Huston was forced to raise an army and fight for independence. It is more like slavery was illegal in Mexico, and the Anglos living there wanted to make Texas a slave state in the U.S.
Rich Anglo Texan's are debating fighting Santa Anna for independence. Sam Huston (Howard Negley) comes into the meeting and tells of the battle that is developing in San Antonio at that Alamo Mission.
The scene switches to Col. Travis (Arthur Space) meeting with Jim Bowie (Stuart Randall) at the Alamo. Sam is in attendance. They have sent a messenger to Sam Huston asking for help. Reb (Dennis Weaver) comes in to say that a Mexican under a white flag is outside. The Mexican soldier gives them the degüello warning. Surrender or die, no quarters. Travis fires a cannon as a no answer. It starts a night fight.
When the flag is knocked over, all the men watch as one man risks his life to rehosting the flag. He is killed. John Stroud (Glenn Ford) runs to the flag and raises it above the mission.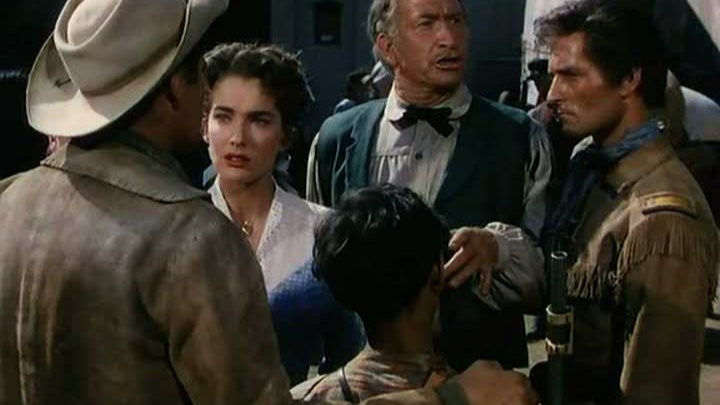 That night Stroud and his neighbors sit around talking. Reb is from Tennessee and tries to explain why they are fighting in Texas. They have heard that Texan, like Jess Wade (Victor Jory), are getting land grants to work for the Mexicans. Lt. Lamar (Hugh O'Brian) rides through the Mexican lines with a message from Houston. He speaks to Davy Crockett (Trevor Bardette) first. The men on the wall ask what is going on up north where their families are living. He says they are raiding around Oxbow where the men's families are.
Lt. Lamar tells them that no help is coming from Sam Huston. The five men from Oxbow plan to send one man to protect their families. They draw beans, and Stroud gets the black bean. Travis calls the men out and lets them know that no help will be coming. He gives them the opportunity to stay or leave. Having drawn the black bean, Stroud is the only man who does not volunteer to stay. Travis can't believe such a brave man is leaving, but he provides him with a horse anyway. Travis reads a letter to Huston saying he will stay to the death. Lt. Lamar is sent out with the letter. Bowie, Sam, Lt. Lamar, and Travis watch Stroud leave. When some men say Stroud is yellow, the others tell of the drawing of the lots. But no one will ever know.
Stroud makes it through the fire and hell of the Mexican line. He rides hard, but every homestead he visits is already burned out. When he makes it to his home, it is destroyed as well. Someone takes a shot at him, but he quickly sees it is Carlos (Marc Cavell), a young Mexican boy that worked on the ranch. He tells Stroud that his wife and son are dead. Carlos says his father was killed as well.
Stroud is ready to head back to the Alamo and make the Mexican's pay. Carlos says the men that did this were Jess Wade's guerrillas.
In Franklin, Sam Huston and Lt. Lamar arrive and are greeted by one armed John Gage (Chill Wills). They then tell them the Alamo has fallen. He orders all women, children, and men over 60 to leave town before Santa Anna's army arrives. Lt. Lamar's family is in the town. Lamar tells the town that Stroud left the Alamo. Lamar's detachment is left behind to guard the evacuees.
Stroud and Carlos arrive in Franklin, and he tries to leave Carlos in the town. Beth Anders (Julie Adams) agrees to take Carlos. Stroud finds out for the first time that the Alamo has fallen. Lt. Lamar comes and starts giving him grief. John Gage calls all of the folks in to see the coward Stroud. Gage gets really rude as Stroud leaves.
Some drunken Wade men, including Dawes (Neville Brand), come out of the saloon shooting in the air. The town folks grab them, and Carlos tells that Dawes is one of the men that raided the ranches. Stroud tries to get to Dawes, but Lt. Lamar tries to throw him out of town. Stroud punches Lamar and is almost hanged. The sheriff stops the group but Stroud refuses to leave town, so he is arrested and thrown in the cell with Dawes.
Dawes knows that Stroud is the man that left the Alamo. Stroud tells Dawes that he may join the Mexicans. Dawes is suspicious. Dawes says they will escape soon.
The wagon train is set, and the town gold is loaded. Some of the soldiers are talking about hanging Stroud and Carlos goes to warn him. Beth comes and takes Carlos to the wagon. After they are gone, Dawes tells Stroud about Jess Wade and says he can join the gang. Stroud says he is in.
The able-bodied men are left behind as the women, many Alamo widows, head out with Lt. Lamar's detachment. Beth is kind to Carlos, and he tells her that Stroud left to take care of the families around Oxbow.
The men in the town have built a barricade in the main street of the town. The talk turns to hanging Stroud. The men storm the jail and drag Stroud outside and put a rope around his neck. At the same time, the Wade gang storms into town. The raid stops the hanging. Dawes and Stroud arm themselves and head out. Stroud thinks for a bit about shooting Dawes. Stroud knocks one of Wade's men off a horse and joins the fleeing group as they ride back to their camp.
Stroud is really cocky with Wade. Wade accepts him because he has guts. Stroud says he left the Alamo to get a Mexican land grant at the end of the war. That night Dawes and the other members of the gang ask questions about Crockett and Bowie. When one of the men calls him yellow, Stroud beats the crap out of him. Wade accepts Stroud and is told that they are going after the wagon train because the town gold is loaded on it.
At the wagon train, Lt. Lamar decides to go through the gorge to save a days' travel even though it is an ideal ambush location. Lamar over rules Gage. Wade and his gang ride to the ambush position. Stroud is sent to a watch position with another man guarding him.
Gage tries to stop Lt. Lamar from taking them through the gorge. Lamar is adamant in his jackassery.
Stroud can see the wagon train coming. He tells the guard that he wants to protect the wagon train. The guard decides he is going to kill Stroud with a pig sticker. Stroud gets the better and shots the guard, warning the wagon train to turn back. Lt. Lamar sends four men to fight a delaying action while he heads back with the wagon train. They circle the wagons.
Wade climbs up to kill Stroud. Stroud tells Wade he knows Wade murdered his family. They have a gunfight and Stroud roles down the hill. The soldiers arrive and drive Wade away. The soldiers capture one horse, and it has Stroud's gear on it. Carlo speaks for Stroud.
That night Carlos sneaks out to find Stroud. He tells Beth what he is up to. He tells her again that Wade's gang are not Mexicans. Beth helps him go look for Stroud. Two soldiers follow Carlos to protect him. Bad sneaking.
Carlos finds the wounded Stroud clinging to life. The soldiers are touched by Carlos' devotion, and they help bring Stroud into camp. The people don't want Beth to help him, but some soldiers and others decide it is the right thing to do. Gage is the hardest against Stroud. Gage doesn't want to help Beth with Stroud until Carlos pulls a gun on him.
It the morning, they prepare to leave. Stroud wakes up and is a little confused about where he is. Beth says she believes why Stroud left the Alamo. Lt. Lamar places him under arrest for being with Wade's gang. Beth can see that Stroud is no coward. Beth has Stroud tell that he fired the warning shots. He also tells that the wagon train is still under danger from Wade.
Lt. Lamar moves the wagon train into the open where it will be harder to ambush. Stroud says he would take the wagon train south. He says he wants to kill Wade. Stroud thinks he should have stayed at the Alamo because he didn't help his or anybody else's family.
Wade's gang rides ahead to ambush the wagon train at the river crossing. A sergeant (Guy Williams, the dad from the original "Lost in Space" 1965-1968) rides in and gives Lt. Lamar orders to take his detachment to San Jacinto. Lt. Lamar does not want to go. He also wants to keep the soldiers. The sergeant reminds him that would be desertion. Stroud reminds Lamar that he is about to do the same thing Stroud did. Lamar decides to go, and Stroud says he will take the wagons through. Lt. Lamar comes and shakes Stroud's hand. Stroud asks that ten rifles be left behind. As the troops head away, Stroud puts the wagons in a fighting formation.
Wade's scout sees the soldiers leaving and heads to the ambush. He tells that the military left and the wagon train headed southward. They head out after.
Stroud is riding vidette and sees Wade's gang coming. He has the women and children lay down in the wagons, and they make a run for it. The women rise to the occasion like Dorian women of old. Beth is rocking and rolling when the reins break. Stroud rides down the runaway team and jumps onto the lead horse, saving the wagon.
With Wade's gang in hot pursuit, the wagons are driven down a draw. They back the wagons up to the river. They load gear in the front for protection and the non-combatants hide below the bank. When Wade's gang rides in the women in the wagon train wear them out. They rearm for a second attack.
Wade and three men circle around behind. The rest will attack when they hear the shooting. Stroud has Gage get two pistols, and they ride out. The one-armed Gage climbs a tree and waits for the attack. The main gang makes another frontal assault and is shot down like dogs. Gage shoots a couple of the back attackers. Stroud shots the other and heads out after Wade. Stroud overtakes him, and they fight in the water. Gage yells that they are heading for the falls. Wade is winning the fight but Stroud judos him over.
Gage and Stroud ride back to the wagon train where everything is okay. Stroud tells Carlos to stay with Beth and that he is heading to San Jacinto. Gage gets the wagon train moving, and Carlos tells Beth that Stroud will be back for both of them. Stroud rides away.
World-Famous Short Summary – Every man is the hero of his own story
I hope you enjoyed today's show. I really appreciate you spending the time listening. You can find connections to social media and email on my site at classicmovierev.com. There are links in the podcast show notes as well. This is an independent show, and there is a lot that you can do to help out. First, and most importantly jump over to Apple Podcast and give me a review. It really helps the show get found. If you want to comment, help, or recommend a movie, email me.
Beware the moors

---
[1] https://www.imdb.com/title/tt0046035/?ref_=ttfc_fc_tt
[2] https://www.rottentomatoes.com/m/man_from_the_alamo
[3] https://www.nytimes.com/1953/09/12/archives/the-screen.html
(Visited 33 times, 1 visits today)