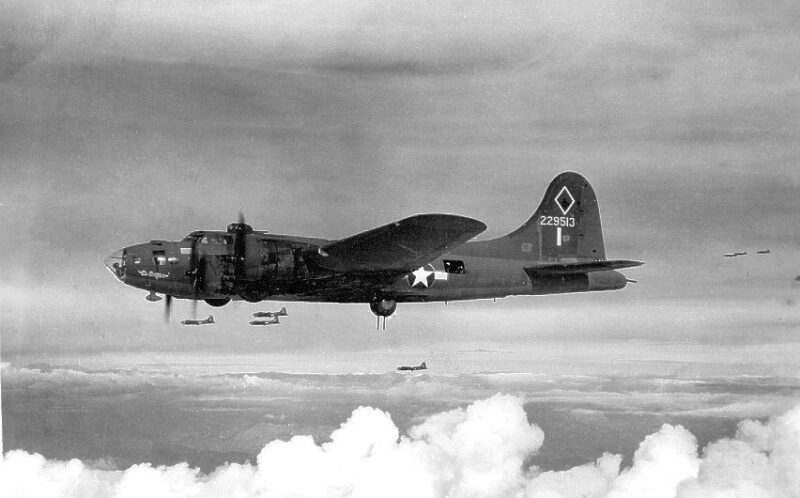 A few hours from now, they'll be fighting on oxygen, five miles over Germany. Tonight, some of them will be dancing at the Savoy - and some of them will still be in Germany
Today's movie is Command Decision (1948). This is a good Clark Gable movie that plays on his real-world experience in the U.S. Army Air Corp in World War II. Being a big star and 40-years old, Gable could have had it pretty easy. Instead, he flew at least five combat missions, and it was reported that Herman Goering offered a large reward[1] of up to 5 million dollars for downing Gable.
This movie has a very solid 7.4 rating on iMDB.com[2]. On Rottentomatoes.com this film is liked by 83 percent of the audience[3].
New York Times film critic Bosley Crowther said of the film:
"… it is the performance of Clark Gable in this scene of a soldier's momentary grieving that tests his competence in the leading role. For this is not only the least likely but it is the most sentimental moment in the film, and the fact that Mr. Gable takes it with dignity and restraint bespeaks his worth. Otherwise, he makes of General Dennis a smart, tough, straight-shooting man, disciplinary yet human and a "right guy" to have in command."[4]
I personally love the goal-driven aspect of this movie. So, let's get going with a substantial number of returning actors.
Actors
Returning
The main star is Clark Gable as Brigadier General K.C. 'Casey' Dennis, a man that has a job to get done. Gable was first covered in Band of Angels (1957).
Walter Pidgeon was in the role of Casey's commander, Major General Roland Goodlow Kane. Pidgeon was first covered in the wonderful sci-fi Forbidden Planet (1956).
Van Johnson was cast in the role of Technical Sergeant Immanuel T. Evans, Casey's dog robber. Johnson was first covered in Battleground (1949) as was John Hodiak who played Colonel Edward Rayton Martin. Marshall Thompson as the drunken Captain George Washington Bellpepper Lee was also first seen in this film.
Brian Donlevy, who played Brigadier General Clifton I. Garnet, was first covered in the Film Noir The Big Combo (1955).
Charles Bickford was in the role of war correspondent Elmer Brockhurst. Bickford was covered way back in Of Mice and Men (1939).
John McIntire played weather forecaster, Major Belding Davis. McIntire was first covered in the Film Noir The Phenix City Story (1955).
Holmes Herbert had an uncredited role as the Chairman of the Congressional Committee. Herbert was first mentioned in The Verdict (1946).
New
Edward Arnold played Congressman Arthur Malcolm. Arnold was born in 1890 in New York City. Arnold began acting on the New York Stage. His first films were in 1916, and one of the titles was Vultures of Society (1916). Arnold was a large man with a deep voice. His films continued until 1956 and include many classics and quite a number of Film Noirs. Highlights of the movies are Rasputin and the Empress (1932), Duck Soup (1933) with the Marx Brothers, Diamond Jim (1935), The Glass Key (1935), Mr. Smith Goes to Washington (1939), Johnny Apollo (1940), The Earl of Chicago (1940), Design for Scandal (1941), Johnny Eager (1941), Meet John Doe (1941), one of my favorites, The Devil and Daniel Webster (1941), Kismet (1944), Main Street After Dark (1945), The Hucksters (1947), The Mighty McGurk (1947), Command Decision (1948), Big Jack (1949), Annie Get Your Gun (1950), City That Never Sleeps (1953), Miami Exposé (1956), and The Houston Story (1956). Arnold died in 1956 at the age of 66.
Cameron Mitchell played Lieutenant Ansel Goldberg. Mitchell was born in Pennsylvania in 1918. He came from a religious family, and he remained such. In high school, he was scouted by professional baseball teams. Before World War II he began working on Broadway and attended the Theater School of Dramatic Arts. When World War II broke out, he joined the U.S. Army Air Corp and serves a Bombardier.
Mitchell signed with MGM and made his film debut at age 26 in 1945. He continued on stage and was noted for the part of Happy in "Death of Salesman." He later played the same role in the movie version of Death of Salesman (1951). He is best-known for, as far as I'm concerned, How to Marry a Millionaire (1953), recording the voice of Jesus for The Robe (1953), Monkey on My Back (1957), television western "The High Chaparral" 1967-1971 where he played Buck Cannon, dressed part biker, part gunfighter, and part riverboat gambler, Viva Knievel! (1977), The Swarm (1978), My Favorite Year (1982), and Terror in Beverly Hills (1989). He was active into the 1990s and died in 1994.
Ray Collins was cast in the important role of Major Desmond Lansing. Collins was born in 1889 in California. His family had been in California for a long time, and in fact, his great-grandfather was the commandant of Sutter's Fort before the Gold strike. Collins made his stage debut at the age of 14 in Vancouver, Canada. He worked for a time in vaudeville. In the 1930s, Collins began working on stage and as a radio actor. He also appeared in a number of film shorts. His radio work included working with Orson Welles and the Mercury Theatre group. Collins was on the famous "War of the Worlds" broadcast but was uncredited.
In his almost 90 films, Collins acted in some very important films. He played a lot of military officers and judges/district attorneys. Since he worked will Welles, he was cast in the technically masterful Citizen Kane (1941). The next year, he was in another Welles' film, The Magnificent Ambersons (1942). He was in a film I have not seen. Collins was a Cardinal in The Hitler Gang (1944) which shows Hitler's rise as a gangster story. He was in the Film Noir Leave Her to Heaven (1945). He played the stodgy old bank president Mr. Milton in The Best Years of Our Lives (1946), which is one of the best films ever made. He had a small but important role in Command Decision (1948). He was in the comedies The Bachelor and the Bobby-Soxer (1947), Francis (1950) about a talking Army mule, Kill the Umpire (1950), The Reformer and the Redhead (1950), and two Ma and Paw Kettle films; Ma and Pa Kettle Back on the Farm (1951) and Ma and Pa Kettle on Vacation (1953). Two other Film Noirs he acted in were The Racket (1951) and The Desperate Hours (1955) about an attempt on the president's life. His third Welles' film was the masterful Film Noir Touch of Evil (1958). However, Collins is best remembered as Police Lt. Tragg on television's "Perry Mason" 1957-1965. He often works a Fedora that was closer in size to a zoot-suite hat. Collins died in 1965.
Story
The credits roll as a flight of B-17 cruise at high altitude leaving contrails behind. Actual World War II footage of bombs dropping and the explosions that they created were used. The scene switches to a Royal Air Force (RAF) briefing. They tell of the success of their night mission with only light losses. American Officer Major Davenport announces that the Americans have lost 48 bombers in the day's operation. The crowd is shocked. American war correspondent Elmer Brockhurst (Charles Bickford) and his partner James Carwood (John Ridgley) leave the briefing. The target of the American attack is not given.
Carwood asks if any target in Germany is worth that many planes and crews. Brockhurst says the problem is Brig. Gen. "Casey" Dennis (Clark Gable). Brockhurst has a grudge against Casey for some reason. Brockhurst decides he will travel to the 32nd Bomb Group where Casey has his headquarters.
When Brockhurst arrives at the air base, there is peaceful countryside disturbed only by the sound of airplanes taking off. Brockhurst sees the takeoff and realizes it is another maximum effort. His jeep driver confirms that they are throwing every plane they can get against the Nazis again.
Casey stands like a man of steel on the control tower watching the planes leave, knowing many will not be coming back. Casey shows no emotion as he sees a damaged plane from the previous day's raid.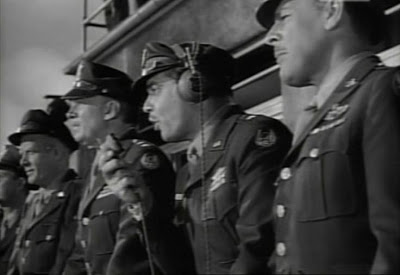 Sitting at Casey's desk is Tech Sgt. Evans (Van Johnson). Evans jumps when another man comes in. The man is bringing in a model of a German ME-262 jet for the general. Casey comes in and goes right to work asking Evans questions about the previous days strike. Casey request to see Captain Jenks and is told that there is a war correspondent on the station.
Casey goes to the plotting room to check on the strike. They get notification that the second target has been destroyed. Casey says two down and one to go. Major Belding Davis (John McIntire) gives a weather report for Germany and is surprised that they will be hitting that deep again. Casey begins planning the strike with another maximum effort. Evans comes in with a message from Major General Roland Goodlow Kane (Walter Pidgeon) saying that a congressional committee is coming and they must have low loses for the next three days. Finally, they release the name of the second target, Schweinhafen, which translates to pig haven.
Brockhurst is prowling the halls and runs into Evans. Brockhurst tries to find out why Casey, is losing so many planes and why he has Captain Jenks confined to quarters. Evans evades every question. Jenks comes into to see Casey. Jenks had refused to fly the Schweinhafen mission. Jenks' uncle is a congressman that is coming to the base. Jenks crew flew without him. Jenks has a breakdown. Just then General Kane comes in and brings Brockhurst in with him. Kane is happy to see Jenks, not knowing he is in trouble.
Kane is shocked at the loses Casey has had. Brigadier General Clifton I. Garnet (Brian Donlevy) is with General Kane as well. Garnet is a classmate of Casey, brother-in-law of group commander Colonel Ted Martin (John Hodiak), and everyone assumes Casey's replacement. General Kane gets a call from a Duchess, and it is clear he fighting the war in another way. Kane wants Casey and Brockhurst to make peace. Brockhurst tells Kane that there is another maximum effort and the general is shocked. When he finds out the name of the targets, Kane realizes that Casey has started Operation Stitch. Kane asks Brockhurst to leave the room. Kane arranges with his dog robber to keep the congressional committee away for a day. Kane issues a security blackout and says all flight orders must come from him. Casey said when Kane was away the weather cleared and he ordered the operation to begin. Kane says it will cause appropriations to be cut.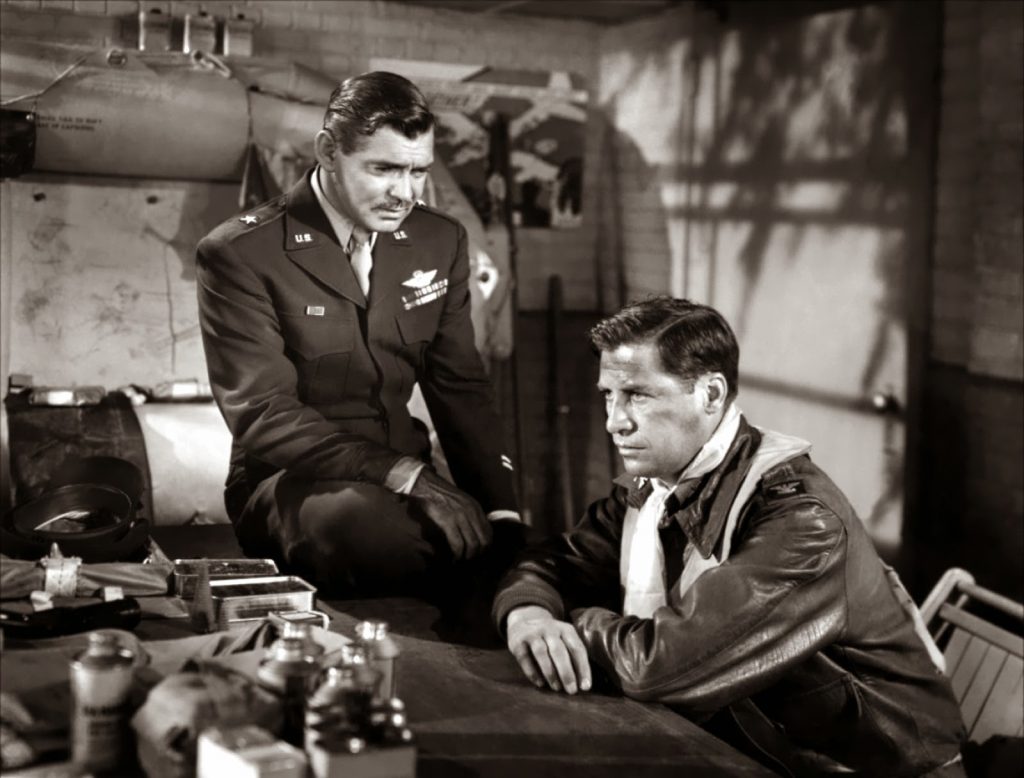 Garnet asks to be brought up to speed on Operation Stitch. Casey shows him the model of the German jest and says a Czech engineer escaped the Nazis and landed one of the jets on their field. He shows the performance curves for the jet verses that allies best fighter and nothing can keep up with it. They then show a film of the jet out climbing and outperforming the Spitfire and the Mustang. Garnet and Kane are shocked at the performance of the jet. The operation name comes from "a stitch in time saves nine." Kane is only interested in protecting daylight precision bombing.
Their meeting is interrupted when the groups start coming into land. All of the generals go outside to count. Eleven planes come back, and they are not sure it's the remains of 12 or 36. It turns out to be 11 of 36 or 70 percent loses. The planes are coming in shot up with engines out. One is being flown by Bombardier as the pilot and co-pilot have been shot. Since the pilot is still alive, the Bombardier wants to land the plane. Casey tries to talk him down. Casey gets him on the ground but the Bombardier uses his breaks and crashes the plane, which then explodes. Everyone is stunned by the close loss.
The battered pilots are brought back for the debriefing. Evans gets Kane out of the way with photographers so Martin can talk to Casey. Lieutenant Ansel Goldberg (Cameron Mitchell) is Martin's co-pilot and is not happy about the mission. Martin sadly reports that they hit the wrong target and that Schweinhafen was untouched. Goldberg made the error although Martin takes responsibility.
When Kane and Garnet come in Casey has to tell Kane that they hit the wrong target. Garnet talked to the air board about the operation. Goldberg comes in with the strike photos. Kane takes them and talks about what a fine job they have done. Casey is still trying to tell them the wrong target was hit. Finally, Goldberg says they hit a torpedo factory by mistake. Kane wants to spin it as helping the Navy. Casey takes responsibility, then Martin does, and then Goldberg does. Goldberg feels sick about the loses.
Kane will not allow them to give the order for the next day's attack. Casey tells them to prepare for Schweinhafen again. Brockhurst comes in, and he has found out that Schweinhafen did not get hit. Kane asks Brockhurst to write a story about interservice cooperation. Martin says Operation Stitch and Brockhurst says he is going to write the story correctly. Kane gives Brockhurst a top-secret file on Operation Stitch to read and forget.
The group's intelligence officer is Major Desmond Lansing (Ray Collins). Lansing says the Nazis don't want to report the truth to their superiors. Lansing says after they hit Schweinhafen the Germans will know the third target and can send all of their fighters to defend it. Kane, thinking he has the answer ask Lansing if they should go forward with the operation. Lansing says they must go forward or the new German jets will end daylight precision bombing.
Kane talks about the old days and lobbying with Billy Mitchell in the time between the world wars. Kane is more interested in the bigger plan to keep the Air Corp alive. Brockhurst says he thought the war was against the enemy and not the other services. Casey gets a call saying that the weather will turn bad in two more days. Casey makes a case for what the Nazi Luftwaffe has done. He says what they are doing is checking the enemy. He says the jets will do for Germany what the Spitfire did for England.
Kane sends everyone out except Casey. Brockhurst says he will help. Kane says he will have to sacrifice Casey if Washington calls for it. Kane then releases command to Casey. Just then the congressional committee shows up. Casey tries to order an attack on Schweinhafen, but Kane stops him.
They wine and dine the committee. Congressman Arthur Malcolm (Edward Arnold) is loud and boisterous. During a lull in the party, Garnet expresses to his brother-in-law, his sister's concern about her husband flying so much. He is clearly marked for death. Garnet thinks he is getting a B-29 command in the Pacific. He wants his brother-in-law to be his chief of staff.
Kane gets Casey alone and starts ragging him about what Malcolm is saying about appropriations. Casey tells that Malcolm's nephew Jenks is in trouble for refusing to fly. Casey forces Kane to accept the Schweinhafen mission in exchange for not prosecuting Jenks. Kane releases the squadron to Casey, and he orders an attack on Schweinhafen. He also has Jenks released and orders him to report the HQ. Brockhurst hears Casey give the order and wonders how he did it.
The orders go out over the wire, and the men go into action. Brockhurst begins writing a favorable story about the mission. They will travel 600-miles over enemy territory to spend 4-minutes on the target. In the morning, the planes head for Schweinhafen. The congressional committee is very impressed with the air power. Col. Martin is the lead plane of the attack. There is a beautiful montage of actual World War II plane footage.
Jenks is with his Uncle Malcolm. Malcolm inadvertently jabs his nephew about being left behind. Casey gives a realistic picture of their chances. Work comes in that Martin is a father. Kane's dog robber is giving Casey's speech to the Congressional Committee. Kane makes a case for more planes and aerial supremacy. Malcolm is being a jackass. He begins quizzing Casey about sending the bombers past the fighter protection limits and losing half his strength. Casey says that appropriations made in 1938 are the reason the planes can't be protected. Kane takes Casey out before he hits Malcolm. Kane gives Casey a warning that he says is beyond friendship.
Kane and Casey get ready to give Jenks a decoration. They get word from Martin that Schweinhafen is destroyed. They give Jenks the medal. During the ceremony, Casey gets word that Martin and the rest of Jenks crewmates have died. When Malcolm realizes that Martin is dead, he starts in on Casey. Casey tells him to shut up. Finally, Jenks yells for his Uncle to shut up. Jenks closes the case on the medals and storms out. Casey is upset and goes to work on the mission for the next day. Malcolm is advised to shut up. Casey looks at the map and hears the voices of the mission he ordered.
Garnet comes in and tells Casey that General Kane is really worried about him. He gets strike photos of Schweinhafen and has one more day of good weather. Casey is going to finish the job by hitting Fendelhorst. Kane relieves Casey of command and places Garnet in charge.
There are a lot of drunken soldiers on base when the new commander comes on. One drunken soldier is Captain George Washington Bellpepper Lee (Marshall Thompson). Garnet talks to his staff and finds out that a new commander means a milk run or an easy run. It is sometimes called an eggs in milk run. Garnet finds out that Kane doesn't normally pick the target. Evans says he is leaving. Garnet asks Evans about the easy mission.
Garnet looks at the model of the ME-262. Captain Lee comes in and apologizes for being drunk. Garnet asks Lee about the missions he has been on. His next mission will be his 25th and last. Lee thinks he is going to get an easy run and then can go home. Garnet realizes Casey only sent those mission because he had to, not because he wanted to.
Garnet asks Major Desmond Lansing if he would attack Fendelhorst in the morning. He says he would because his son is training for the infantry. Casey comes in while Garnet is getting the weather briefing. Casey thinks he will get easy duty training pilots in the states.
Garnet makes the decision to hit Fendelhorst. Garnet says Casey had Martin to help him. Casey says surprisingly that he killed Martin so Garnet would not have to do it. Before Casey can get on the plane, he finds out that he is getting the B-29 command in the Pacific. He is not happy but decides to take Evans along with him. Brockhurst wishes him good luck.
World-Famous Short Summary – All planes to Schweinhafen
I hope you enjoyed today's show. I really appreciate you spending the time listening. You can find connections to social media and email on my site at classicmovierev.com. There are links in the podcast show notes as well. This is an independent show, and there is a lot that you can do to help out. First, and most importantly jump over to Apple Podcast and give me a review. It really helps the show get found. If you want to comment, help, or recommend a movie, email me.
Beware the moors

---
[1] https://www.defensemedianetwork.com/stories/clark-gable-served-in-uniform-flew-combat-missions-in-world-war-ii/
[2] https://www.imdb.com/title/tt0040242/
[3] https://www.rottentomatoes.com/m/command_decision
[4] https://www.nytimes.com/1949/01/20/archives/the-screen-in-review-command-decision-metro-film-about-wartime-air.html
(Visited 81 times, 1 visits today)