I'd stand up for you, kid, til I drop
Welcome to today's show, my name is John. As always you can subscribe to the show on Apple Podcast or follow the links to social media in the podcast show notes. So please subscribe when you are finished listening. You can also go to classicmovierev.com to read notes, bios, and other random movie thoughts.
Today's movie is The Best Years of Our Lives (1946). This could be one of the greatest movies of all time. It's way up there and is very important to me. This film is rated at 8.1 on iMDB.com[1]. On Rottentomatoes.com the Tomatometer score is a staggering 96 percent.
New York Times film critic Bosley Crowther said of the film:
It is seldom that there comes a motion picture which can be wholly and enthusiastically endorsed not only as superlative entertainment, but as food for quiet and humanizing thought… In working out their solutions, Mr. Sherwood and Mr. Wyler have achieved some of the most beautiful and inspiring demonstrations of human fortitude that we have had in films."

He also said the ensemble casting gave the "'best' performance in this best film this year from Hollywood. [2]
The director, William Wyler, joined the U.S. Army in World War II as a director. He made two important documentaries: The Memphis Belle: A Story of a Flying Fortress (1944), and Thunderbolt! (1947). During the filming of The Memphis Belle, Wyler flew actual combat missions. Wyler made one major change to the film, shifting the focus away from PTSD and made the focus on the character Homer Parrish, played by a non-actor veteran that had lost both hands in World War II.
The film was nominated for eight Oscar, winning seven. The film won Best Motion Picture, Best Director – William Wyler, Best Actor – Fredric March, Best Writing (Screenplay) – Robert E. Sherwood, Best Supporting Actor – Harold Russell, Best Film Editing – Daniel Mandell, and Best Music (Score of a Dramatic or Comedy Picture) – Hugo Friedhofer. Two more Oscars were awarded: Honorary Award to Harold Russell, and Memorial Award to Samuel Goldwyn.
This movie is interesting because the film started a little over seven months after World War II ended. Not much time for reflection, but they seemed to have nailed it.
Actors
Returning
This movie is where I first fell in love with Myrna Loy. Loy was such a popular star that she received first billing in the film credits. Loy played the role of Milly Stephenson. Loy was first covered in Episode 70 – The Mask of Fu Manchu (1932).
Fredric March played Al Stephenson, the banker that left his family behind to be a Sargent in the Pacific Theater. March was first covered in The Buccaneer (1938).
Dana Andrews was amazing as Fred Derry, who rose high above his humble beginnings during the war and fell back down following the war. Andrews was first covered during In Harm's Way (1965).
Cathy O'Donnell was great as the shy fiancé Wilma Cameron who was engaged to a man that changed with the loss of his hands. O'Donnell was covered in Detective Story (1951).
Gladys George had a small but memorable role as Hortense Derry, Fred's step-mother. George was first covered in the great Film Noir The Maltese Falcon (1941).
Roman Bohnen played Fred's father, Pat Derry a man broken by life. Bohnen was covered in Of Mice and Men (1939).
Ray Collins was in the role of Mr. Milton, president of the bank where Al Stephenson worked. Collins was covered recently in Command Decision (1948).
Ray Teal had a small role as a man saying the government had sold out the veterans. Teal was first covered in The Command (1954).
Pat Flaherty had an uncredited role as the salvage man. Flaherty was first covered in Key Largo (1948)
New
Teresa Wright played Peggy Stephenson the grown daughter of a returning Army veteran. She was born in 1918 in New York City. Following her graduation from Columbia High School in Maplewood, New Jersey, Wright decided to become an actor. Wright began working in theater. While working in New York, she was scouted and signed to MGM. He first role was in The Little Foxes (1941). Wright received an Oscar nomination.
Wright made it clear that she would not live the starlet life and would remain grounded. Her second and third movies were Mrs. Miniver (1942) and The Pride of the Yankees (1942). She won a best-supporting-actress and a best actress Oscar that year.
Her fourth film was the Alfred Hitchcock directed Shadow of a Doubt (1943) with a creepy uncle, played by Joseph Cotton. Her next film, Casanova Brown (1944), slipped a little, but Wright bounced back with the mega hist The Best Years of Our Lives (1946). This was the last film on her contract, and for some reason they let her go. As a freelancer, the quality of her films generally decreased. These films included Pursued (1947), Enchantment (1948), The Capture (1950), Something to Live For (1952), California Conquest (1952), Count the Hours (1953), the very good Track of the Cat (1954), and Escapade in Japan (1957). Better films include The Men (1950) and The Search for Bridey Murphy (1956).
By 1955, she was working mostly in television and did quite well. In her 50s, she continued to act on stage. Her last film role was in The Rainmaker (1997) with Matt Damon. Wright died in 2005.
Virginia Mayo played an unhappy military wife, Marie Derry. Mayo was born in Missouri in 1920 to a well-heeled family. Mayo began taking dancing lessons at her aunt's studio when she was 6 and when She graduated high school in 1937, she joined the St. Louis Municipal Opera. She was eventually signed to a contract by MGM. They gave her a small role in Hack London (1943). They wanted to try this rare beauty in more substantial roles. She was cast in The Princess and the Pirate (1944) with Bob Hope and then Wonder Man (1945). She was starting to roll and continued in The Kid from Brooklyn (1946) with Danny Kaye. She was great as the cheating wife in The Best Years of Our Lives (1946).
Mayo scored big in The Secret Life of Walter Mitty (1947) again with Danny Kaye. She really showed that she could work the dark side when she played the cheating wife to James Cagney's character in White Heat (1949). Other films include A Song is Born (1948), Backfire (1950), with Edmond O'Brien, Captain Horatio Hornblower R.N. (1951), She's Working Her Way Through College (1952) and South Sea Woman (1953). However, it all ended quickly. In the 1960's she only made four films. The 1970s only added another four films. Her last role was The Man Next Door (1997). She died in 2005.
Harold Russell played Navy veteran, Homer Parrish. Russell has an interesting story. He was born in Canada in 1914. Five years later, his family moved to Massachusetts. On D-Day, June 6, 1944, he was in North Carolina training paratroopers. The TNT he was using exploded, and Russell lost both his hands. He was given hook hands and trained to use them. The Army used him in a training film titled "Diary of a Sergeant." Director William Wyler saw this film and decided to cast him in The Best Years of Our Lives (1946) as a returning Naval veteran with hook hands. Russell became the only person to receive two Oscars for the same role when he won for Best Supporting Actor and was given a special Oscar for being an inspiration to returning veterans. He attended Boston University and was active in veterans' affairs for the remainder of his life. Sadly, he sold the special Oscar to pay for his wife's medical treatment. Russell died in 2002 at the age of 88.
Singer Hoagy Carmichael played Homer's, Uncle Butch Engle. However, he mostly played the piano. Tennessee Ernie Ford was uncredited as a nightclub singer.
Story
World War II has ended, and the American servicemen are making their way back home. Army Air Corp Captain Fred Derry (Dana Andrews) is looking for a flight to Boone City. He quickly learns that money is king. I had always believed the city was Chicago. However, during the research for this show, I found out that Boone City was modeled after Cincinnati, Ohio[3]. Fred gets a ride on a B-17, and there are already two people hitching a ride. They are Army SFC Al Stephenson (Frederic March), and Navy Petty Officer Homer Parrish (Harold Russell). Fred was a bombardier in Europe, Al commanded infantry in the Pacific, and Homer had hooks hands because he had lost them when his ship was hit in the Pacific. Homer has been trained to use his hooks and is quite comfortable around the other men. They see a sea of junked warplanes as they land.
During the flight and the taxi home, the three men bond over their experiences, the lost time, and the fear of returning home. Homer tells the location of his uncle's bar before being the first one dropped off. He wants to go for a drink, but Al says no. Homer is greeted by his mother, father, and little sister. When his fiancé Wilma Cameron (Cathy O'Donnell) comes over, he won't wrap his arms around her. Fred and Al drive on, and Al wants to drop Fred off first. Fred says no and drops Al off at an upscale high rise. Al tells Fred he is a banker. Al surprises his son Rob, daughter Peggy (Teresa Wright), and loving wife Milly (Myrna Loy). His family has learned to get along without him, and his children are grown.
Fred goes to his father's Pat and step-mother Hortense's house. They are played by Roman Bohnen and Gladys George. It is a shack located near an overpass. Fred was dirt poor until the war gave him a chance to move up. Fred's whirlwind romance bride Marie (Virginia Mayo) had been living with Fred's family, but he finds out that she took a nightclub job and got her own place. Fred heads out to his wife's apartment.
Peggy takes her brother away and gives Milly and Al some alone time. They are very nervous. Al wants to go out on the town with Milly and Peggy. They hit a long string of swinging night spots. That's why I thought it was Chicago. I don't think they have that many bars in Cincinnati.
Homer's future in-laws come over, and they are very nervous about Homer's hooks. Wilma's father is speaking the Republican line about the post-war depression. Finally, Homer excuses himself and goes for a walk. Homer ends at his uncle Butch's place where Butch (Hoagy Carmichael) is playing the piano. A slightly drunk Fred is asleep at the bar. Homer and Fred start drinking. About that time drunken Al busts in dragging Milly and Peggy. Fred is there because he can't find where his wife is working. They do some military-style drinking. Butch tells Homer that Wilma called and he tries to get Homer straightened out. With Homer, it is all about the hook hands. Drunk Al dances with Milly leaving Fred and Peggy to get acquainted. Butch takes Homer home. When the others close the bar, they finally head home. They drop Fred at his wife's apartment, but he is too drunk to get inside. Milly and Peggy load him back up and take him to their home.
That night, Fred has a nightmare about a burning plane. It is clear that he has not left the war behind. Peggy wakes him from the nightmare and stays with him while he goes back to sleep. In the morning, Fred does not remember the night before. Peggy fixes him breakfast and later drives him to his wife's apartment. Peggy and Fred bond more during the drive. Fred says he was a soda jerk before the war and the one thing he knows is that he is not going back behind the counter.
Milly and Al get reacquainted.
Marie Derry (Virginia Mayo) is happy to have Fred back or so it seems.
Fred goes back to the drug store where he used to work as a soda jerk to see the owner. The store has been sold out to a major chain, and they are under no obligation to rehire Fred under the terms of the Servicemen's Readjustment Act of 1944. Fred does not want to go back, and a kid that he trained as a soda jerk is now a floor manager. He is offered an assistant floor manager job. He turns it down.
Mr. Milton (Ray Collins) calls Al into the bank and pitches him on the job of Vice President of loans dealing with the new laws to help returning servicemen. He wants him to go back to work right away.
Marie quits her job and just wants to have a good time with the money that Fred has brought home. When he starts wearing civilian clothes, she is not too happy. Marie talks Fred into wearing his uniform to the night club where she had previously worked.
Everyone is trying to make Homer feel normal, but he is pushing everyone away, including Wilma. While practice shooting Homer gives Wilma the brush off. He also rages on his sister and her friends. That night, they show that when Homer takes off his hook rig, he feels helpless.
Marie is still living the high life. When Fred says he is out of loot, Marie is not happy. She finally asks him about his dreams and if he is okay in the head. They have a fight, and Marie is pissed. The next day Fred takes the job at the drugstore working under his old assistance Sticky.
At the bank, Al approves a loan for a Navy veteran that doesn't have any collateral. Two things convince him to make the loan. First is that he sees Homer conducting his banking business. Secondly, he is convinced to give the loan based on the man's attitude, which just happens to be the same American attitude that won the war. But, not very sound banking.
Fred is not happy working in the drug store dealing with rich carefree ladies and undisciplined children. On one bad day, Peggy shows up to see Fred. They decide to meet for lunch. The pair really enjoy each other's company. In the parking lot, Fred plants a big old kiss on Peggy and it makes everything awkward as she leaves.
Al is called into to Mr. Milton's office and told not to make any more unsound loans. After the chewing out, Mr. Milton explains how much he cares for Al. He also says there is a dinner at the Union Club that night.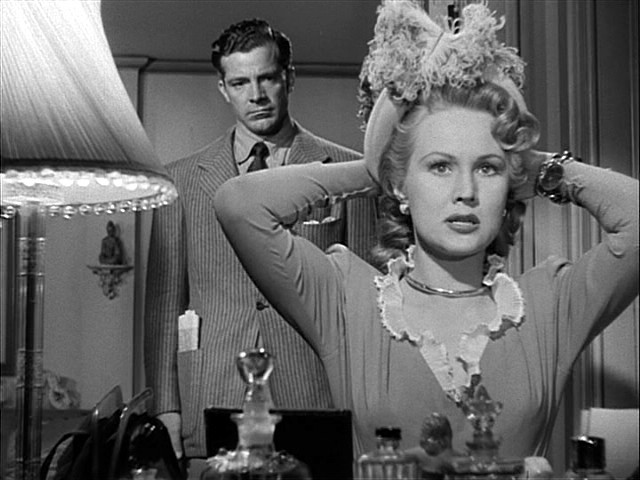 When Fred gets home, Marie is getting ready to go out. She says she has been invited by Peggy to go out on a double date at Peggy's expense.
Al is drinking heavily as he gets ready for the dinner. Milly tells Al that she thinks Peggy is head over heels about Fred. When confronted, Peggy admits she is in love with Fred. She hopes meeting his wife will cool her feelings.
At the club, Mr. Milton gives a speech and introduces the pretty sotted Al. He makes a convincing speech about the need to take risks, and that is how we won the war. At the end of the speech, he has won the crowd over, and Milly is very proud of him.
Peggy and her date are at another club with Fred and Marie. Fred and Peggy are both distracted by each other. Peggy's date had already caught on how bad Fred's marriage is. Fred tells Peggy that kisses will keep on happening if they keep seeing each other. Marie says high to an old friend Cliff (Steve Cochran). In the ladies room, Peggy finds out what a terrible gold digger Marie is.
That night Peggy comes in and tells her parents that Marie is terrible and that she is going to break up Fred and Marie's marriage. Milly and Al say their own marriage has had trouble, and they were able to fall in love again. Peggy feels like a fool.
Al arranges a meeting with Fred at Butch's Place. Fred admits that he is in love with Peggy. Al says he will do all he can to keep Peggy away from Fred. Fred says he will not see Peggy again. Fred goes to make a call to Peggy and Homer comes in. Peggy is crushed by the breakup.
Fred is working behind the food counter when a jackass customer (Ray Teal) orders some food. Homer comes in to see Fred and asks about the trouble with Al. The customer sees Homer's hooks and starts talking to him. He then starts in that the World War II veterans were tricked and were fighting the wrong enemies. I'm not clear what he is talking about other than one reference to radicals in Washington. Does that mean Democrats? Anyway, Fred tells him to leave. Homer rips the man's lapel flag off and get into a tussle. Fred gives the customer a nice right cross. Fred leaves his job for good.
Outside Fred tells Homer he needs to go ahead and marry Wilma. Fred says he will be the best man at the wedding. When Homer gets home, he finds out that Wilma's parents are trying to send her away. He takes her to his room and shows what is like when he doesn't have his hook rig on. Wilma is ready to get married anyway.
Fred goes on unemployment. One day when Fred gets to his house, Marie is with Cliff, the guy from the bar. Marie sends Cliff downstairs to wait. Marie says she has given "the best years" of her life. She then says she wants a divorce.
Fred decides that he is leaving town. He drops his gear off at his father's place. His father reads his decorations and finds out that Fred has received the Distinguished Flying Cross. Fred goes to the airport and asks for a plane going in any direction. While he is waiting, he goes to the area where the junk planes are being torn apart. Fred climbs into the bombardier compartment of an old B-17. He has a flashback to the war and comes to terms with some of it.
He is woken from his flashback by the foreman of the scrappers (Pat Flaherty). After they talk for a bit, Fred finds that planes are not being scrapped and they are being used to build houses. He realizes that he is also not scrap and asks for a job. The foreman starts giving him grief about spending the war in the air while he was slugging it out in a muddy tank. In a great line, Fred says, "Listen, chum, sometime I would be glad to hear the story of your war experiences, but what I ask you for is a job." The foreman like him and gives him a job.
Sometime later, everyone is gathered at Wilma's house for the wedding of her and Homer. Fred is out with Homer acting as best man. Homer says he was afraid Fred had left town and there would be no one to stand up for him. In another great line, Fred says, "I would stand up for you until I dropped." Al comes out, and it is a little awkward.
Fred and Peggy keep making eyes at each other, even during the exchange of vows. After the I do, Fred crosses the room and kisses Peggy. He says it will take years for them to make it. She smiles and kisses him again.
World-Famous Short Summary – The junk man gets it all in the end
I hope you enjoyed today's show. I really appreciate you spending the time listening. You can find connections to social media and email on my site at classicmovierev.com. There are links in the podcast show notes as well. Remember this show is completely free and independent. All I ask is that you jump over to Apple Podcast and give me a review. It really helps the show get found. Beware the moors

---
[1] https://www.imdb.com/title/tt0036868/?ref_=nv_sr_1?ref_=nv_sr_1
[2] Crowther, Bosley. The Best Years of our Lives. The New York Times, November 22, 1946. Retrieved: April 26, 2007.
[3] When Hollywood Ruled the Skies: The Aviation Film Classics of World War Two (2014) by Bruce W. Orriss
(Visited 15 times, 1 visits today)