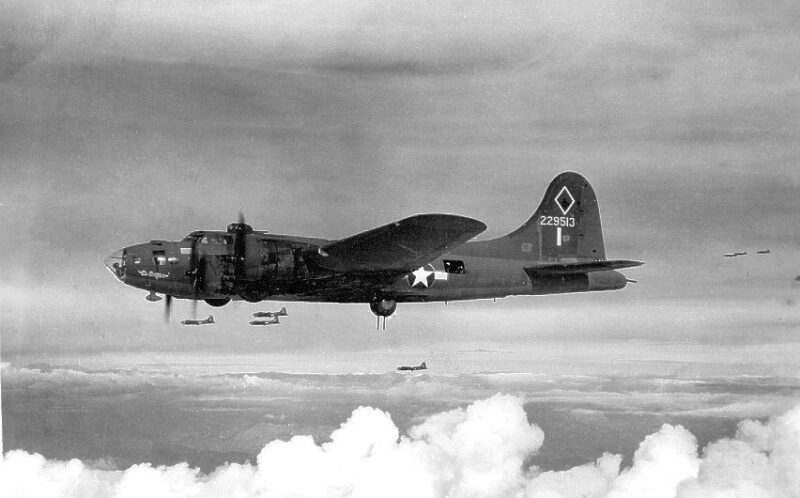 paint this name on the nose of your ship: Leper Colony. Because in it you're gonna get every deadbeat in the outfit...If there's a bombardier who can't hit his plate with his fork, you get him. If there's a navigator who can't find the men's room, you get him.
Welcome to today's show, my name is John. As always you can subscribe to the show on Apple Podcast or wherever you get your podcast. Also, there are links to social media in the podcast show notes. You can also go to classicmovierev.com to read notes, bios, and other random movie thoughts.
Today's movie is Twelve O'Clock High (1949). A contender for the greatest war film ever, yet it shows very little violence. This film is often hailed as one of the greatest management training fields ever made and has been used by most of the U.S. military at one time or other.
The author of the book that this film is based on, Sy Bartlett, was the lead bombardier on the first bombing mission over Berlin in March 1942 and was thus, the first American to drop bombs on Berlin during the World War II[1].
This movie was planned to be shot in color but to match airfields and actual combat footage from both sides, it was decided it should be shot in black and white. This film is also unique as it only has a score at the beginning and the end.
Dean Jagger won the Oscar for Best Supporting Actor, and Thomas T. Moulton won the Best Sound Recording Oscar. The film was nominated for Best Picture and Gregory Peck was nominated for Best Actor, but neither of these was a winner.
This great film has a 7.8 rating on iMDB.com[2] and a 96 on the Tomatometer with 87 percent audience approval at rottentomatoes.com[3]. The rottentomatoes.com scores would seem to be the most accurate. New York Times film critic Bosley Crowther said in a January 28, 1950 article title "Twelve O'Clock High (1949)":
The saga of our Air Forces and their accomplishments in the recent war already has inspired a number of pictures—some fine, some not so good—in which contemplations have been focused upon individuals from sergeants to "top brass." But there hasn't yet been one from Hollywood which could compare in rugged realism and punch to "Twelve O'Clock High," a top-flight drama…This tremendously vivid fictional story of a young general who, toward the end of 1942, takes command of a bomber group operating from a base in England and elevates it from bleak depression to a peak of aggressiveness and pride, has conspicuous dramatic integrity, genuine emotional appeal and a sense of the moods of an air base that absorb and amuse the mind.

Inevitably, this picture, since its hero is of the "brass" and its locale is centered and maintained at an Eighth Air Force bomber base, is bound to provoke comparisons with "Command Decision," another fine film, released last year, which told the story of a general's bouts with the high command. The comparison should not be unflattering, but it is not really justified—and the main points of similarity are coincidental, no more.

For not only is the situation which confronts the hero in this film on a tactical, personnel level—not on the level of command—but it is a situation that compels his weight to be thrown at his subordinates, and not at the "brass." And the consequence of this dire necessity is tension of
a much more personal sort and dramatic situations in which the emotional conflicts are close and direct…. [4]
Crowther's really got to the heart of the matter when talking about Command Decision (1948) and Twelve O'Clock High (1949). Command Decision (1948) was about a commander doing what is required for the job, and they focus oned on how it affects the commander upward. Twelve O'Clock High (1949) is upper command forcing a mission downward and the effect it has on the officers and men. It is a much more personal experience.
The entire premise of Twelve O'Clock High (1949) is that the unit does not have enough discipline to complete their mission. If the commander can drive them hard enough, daylight precision bombing will be successful[5]. However, there are problems with that statement. In reality, daylight precision bombing was tested in the southwest here it is very rarely clouded. Bombing in Germany presented the bombardier with around 200 days of a year of cloudy conditions. But the real issue is that daylight precision bombing will not work unless the bombers are protected by fighters. So, daylight precision bombing was untenable until long-range fighter cover was available to and from the target. This didn't happen until after D-Day when the allies landed in France, and the American Army in Italy pushed far enough north to allow fighters to fly into German airspace.
Actors
Returning
Gregory Peck played the lead as General Savage. Peck was covered in Episode 147 – Marooned (1969).
Hugh Marlowe was great as Lt. Col. Ben Gately, the leader of the leper colony. Marlowe was covered in Episode 28 – World Without End (1956).
Dean Jagger was amazing as Major Stovall, a World War I retread. Jagger was covered in Episode 94 – White Christmas (1954). Major Stovall is based on WWI Ace William Howard Stovall. Stovall shot down six planes in World War I and returned as a Colonel and Deputy Chief of Staff for Personnel for the 8th Air Force during WWII.
Bert Freed and Don Hicks of Episode 73 – Billy Jack (1971) both showed up in bit parts.
New
Gary Merrill played Col. Davenport. Merrill was born in Connecticut in 1915. He attended Bowdoin and Trinity College. He began acting in summer stock. In 1941, he joined the Army Special Services, never to be confused with Special Forces. Following his service, he worked in theater. He was cast in All About Eve (1950) where he met, his soon to be second wife, Bette Davis. His best-known films are Twelve O'Clock High (1949), Where the Sidewalk Ends (1950), Mysterious Island (1961), and The Woman Who Wouldn't Die (1965). Merrill died at the age of 74.
Millard Mitchell played the role of General Pritchard. Mitchell was born in 1903 in Havana, Cuba to American parents. He was a popular radio actor in the 1930s and began appearing in short films. The first film he made in Hollywood was Mr. and Mrs. North (1942). He began appearing in movies playing sarcastic characters. He was in The Naked Spur (1953) as an old prospector and in My Six Convicts (1952), but he is probably best remembered for playing the movie mogul in Singin' in the Rain (1952). A lifelong smoker, he died early of lung cancer in 1953 at the young age of 50.
John Kellogg played Major Cobb. Kellogg was born in Hollywood in 1916. Some of his better-known movies are The Pride of the Yankees (1942), A Walk in the Sun (1945), Twelve O'Clock High (1949), and The Greatest Show on Earth (1952). Kellogg died in 2000. This character was based on Col. Paul Tibbets, the man that flew the "Enola Gay" dropping the first atomic bomb used in combat onto the city of Hiroshima, Japan in 1945.
Robert Arthur played Sgt. McIllhenny. Arthur was born in Washington in 1925. He won a high school contest to become a radio announcer before becoming an actor. After attending the University of Washington, he began playing a baby-faced youngster in films. His better films include Mother Wore Tights (1947), Yellow Sky (1948), Twelve O'Clock High (1949), Ace in the Hole (1951), and Take the High Ground! (1953). Arthur quit acting in the 1960s and became an insurance salesman. In the 1970s, he ran Project Rainbow. Arthur died in 2008.
Story
Four years after the end of World War II, an American, Harvey Stovall (Dean Jagger) is in London buying a hat. He is having a good time with the slower pace of life. While admiring his hat in a store window, he notices a Robin Hood Toby[6] mug. On the mug, Robin Hood is wearing a bandit mask. Stovall as the store owner where the mug came from and is told Archbury. Without pause, he says he will buy it. Stovall treats the old jug like it is a treasure and has it carefully packed. He then takes the package by train to Archbury. Stovall then rides a bike, with the package in the basket, out to a now abandoned airfield. When he gets to the end of the runway, the soundtrack begins to revive the sounds of the airfield as it was during the war. Only a few of the buildings remain. As Stovall cleans his glasses, he hears the sound of a B-17 Flying Fortress cranking, and the wind blows the field.
He remembers a time, during World War II, when a squadron of B-17's were landing at the field, and the story begins. Stovall was part of 918th Bomb Group of the U.S. Army Air Corp. The ground crew is shooting flares to help the planes land. One B-17 comes in with its wheels up for a belly landing. A stunt flyer, Paul Mantz, was paid $4,500 to crash the plane. It remained the highest amount paid for a single stunt for quite a while.
The men that come out of the plane are very upset as the wounded are brought out. The injured man has a shattered leg and his brain is exposed. The other crew members had to sit on him. This is based on an actual occurrence.
Major Stovall and group commander Col. Davenport (Gary Merrill) come to the plane and Davenport is very upset by what he sees. There is an arm from one of the men inside the airplane as well. Stovall does the job of removing the arm.
The men are being debriefed about their flight. Lt. Bishop (Robert Patten) is too upset to talk. Davenport is feeling the grief as well. Bishop had to fight the wounded man for control for two hours. Davenport decides to submit Lt. Bishop for the Medal of Honor.
Stovall is sitting in his administration room when Lt. Col. Ben Gately (Hugh Marlowe) comes in looking for the commander. Gately is very cynical and grumbles a lot. It is 1942, and the 918th Bomb Group is one of the first groups to fly over Germany. The Germany propaganda radio even calls them a hard-luck unit and they are beginning to feel like they are.
Major Stovall begins writing letters to the families of the day's dead. Col. Davenport comes in, and Gately tells him that are being sent in again the next day. Davenport is wound up so tight he is about to pop. The orders call for a maximum effort and say they should bomb from 9,000 feet.
The flight surgeon is worried about the commander and the crews. Gately thinks the 9,000 feet is a mistake. Davenport goes to see his friend about the altitude. Brigadier General Frank Savage (Gregory Peck) is the Assistant Chief of Staff for Operations. Savage has been getting grief from everyone about the altitude order. Savage gives a pair of lined boots to Davenport. Savage wants to help with the group, but Davenport thinks it's because the leadership doesn't care. Davenport freaks out, and Savage thinks he is about to snap.
Savage goes to see Major General Patrick Pritchard (Millard Mitchell) who is the commanding general of VIII Bomber Command. Pritchard thinks there is a problem with the 918th and finally Savage agrees that Davenport is too close to the men to command. Pritchard and Savage leave for Archbury field.
Davenport briefs Pritchard on the mission and why they were three minutes late. Zimmerman, a young navigator, takes responsibility. Davenport doesn't want to relieve the navigator because his parents were German sympathizers and he is carrying a load of guilt.
Pritchard relieves Davenport and that Davenport will be moved to his staff. Another commander will be sent down. Stovall gets the word that the unit is standing down until the new commander arrives. They are all shocked as they deeply respect Davenport.
On the way back, Pritchard gives Savage the word that he will be the new commander. Pritchard believes that the 918th has to be saved or precision daylight bombing will be lost. Savage is tasked with finding out how much the men in the group can take.
Savage arrives the next day and starts busting chops. He rips the MP (Kenneth Tobey) at the front gate. Inside headquarters, he busts Sgt. McIlhenny (Robert Arthur) down to private for not having his shirt on. Sgt. McIlhenny character is based on Sgt. Donald Bevan, who, in 1943, was shot down and became a POW. After the war, he and fellow POW Edmund Trzcinski wrote the play that the movie Stalag 17 (1953) was based upon. Savage finds out that navigator Zimmerman committed suicide and the Air Exec. Gately has left the station. Stovall is at the officer's club drinking. Savage sends for him.
Stovall comes in, and he is waving side to side. Savage orders that Gately be arrested, all leaves are canceled, squadron commanders have to return to the station, and all combat crews have an 8am briefing. Gately is brought in under guard. Savage recounts that Gately is the son of a general and the grandson of another. He is also a graduate of West Point and his the most 4-engine flying time of anyone in the group. Savage tells Gately could have taken the load off of Davenport, but he has only flow three mission. Savage tells Gately was in command when Davenport was relieved. Savage calls him yellow and a traitor. Savage says he will make Gately wish he had never been born and he demotes him to airplane commander. He orders Gately to name his plane the Leper Colony and everyone that fouls ups will be assigned to it. Gately says he will complain. Savage calls Gen. Pritchard and Gately decides not to drag his family through the mud.
Savage is thinking of making Major Cobb (John Kellogg) Air Exec. but Stovall is evasive when he asks about Cobb. Pvt. McIlhenny is assigned as Savage's driver, and he is promoted back to Sgt. Savage gets a beer in the officer's club, and Cobb is there. Cobb is a hard case. Savage closes the club until further notice. He makes Cobb Air Exec.
The next morning, Savage gives a briefing to the flight crews. He tells them to stop feeling sorry for themselves and that they are dead already. He begins making them going through practice flying. He says anyone that can't handle it to come to his office to apply for a transfer. Stovall shows that he is part of Savage's team. Cobb is with the team too, and the flight surgeon is told to make them fly.
Bishop, who was recommended for the Medal of Honor, the previous day, comes in as the spokesmen for the pilots. All of the pilots want to transfer. Savage says for them to put in their request, but in the meantime, they will practice flying. Stovall tells that he fought in World War I. He also tells Savage that he will slow down the transfer request to give Savage time to get through to the men.
Gately becomes the most demanding plane commander as he doesn't want any extra heat. On the first training run, Savage flies in the Leper Colony. The men are grouchy about practice. Finally, the group gets mission orders. Stovall goes to the officer's club and turns the Robin Hood Toby to face out. This is a sign that they have a mission.
Savage leads two missions, and they only lose one airplane. The men are still not responding. Savage orders practice bombing. A Bombardier has been bombing late, and he is set to the Leper Colony. Another man that broke formation is assigned to the Leper Colony. The men ask about their transfers, but Savage doesn't respond.
Davenport comes down to visit. Davenport asks about the transfers and says the Inspector General may be coming to investigate. Davenport says Savage should ease up on the men. Savage says no dice.
The Toby mug is turned again. During the mission, Pritchard sends a recall because of the weather. All of the groups except the 918th returned. Savage fakes a radio malfunction and successfully bombed the target as a single group.
Pritchard chews a few pounds out of Savage's butt. Savage finally gets Pritchard to give the group a Distinguished Unit Citation. Stovall talks to the men after the commendation, but he can't tell if they still hate Savage. Savage calls Bishop and talks to him about the transfers. Bishop says they can't see the bigger picture. He says he wants out of flying. Savage explains that are Guinea pigs and more air power will come from what they do.
When the Inspector General finally shows up, the pilots all withdrawal their requests for transfer and Savage is saved. Cobb tells the good news, and that Bishop was in the lead of the men. Savage shows his first sign of emotion. Savage says he is going to drive the men harder.
A few missions later, they get their first mission over Germany attacking Wilhelmshaven. Savage leads the mission, and there are many stowaways along for the trip. When the planes come back, Sgt. McIlhenny is demoted to Pvt. for going along as a gunner. Savage finds out that Stovall and the chaplain went along as well. He gives McIlhenny his Sgt. stripes back. Gately and the Leper Colony ditch landed in the English Channel.
Three missions later, Bishop's plane is lost over Germany. Savage again shows emotion. Cobb is shock up by the death of Bishop. The flight surgeon tells Savage that Gately has flown three missions with a fractured spine. Savage goes to see Gately, and he is proud of the fine officer he has become. Gately is happy with what Savage has done for him.
Pritchard gets the mission to bomb the ball bearing factory deep inside of Germany, far beyond allied fighter cover. Pritchard wants Savage to come back to his staff job. Savage doesn't feel like he can leave the group yet. Pritchard warns Savage that he is getting too close to the men. Pritchard agrees to let him stay with the group longer. Pritchard has Davenport look for a new commander in case Savage fails.
Savage leads another mission and Gately is no longer flying the Leper Colony. Davenport is waiting at the 918th and hears that the German's have ordered the largest number of fighters ever in response to an attack. The British liaison says that the German pilots are ordered to ram the bomber. However, this did not happen until the very end of the war, two years after the raids that this mission is based on. Fighters swarm the bombers. During the fighting, Cobb is killed. In spite of the loses, the mission is a success. The movie has some great scenes of actual World War II aerial combat at this point. Davenport tells Savage that Pritchard was on the raid.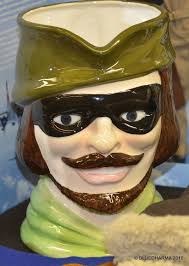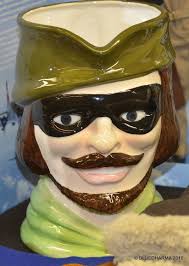 Stovall is drunk, and he says he can't remember the faces to the dead. The next day, Savage goes to his airplane but has trouble with his gear and can't lift himself into the plane. He is shaking and confused. Now we would recognize this as PTSD. Gately takes over, but Savage doesn't recognize him. Savage continues to freak out.
As they wait for the planes to return, Savage becomes catatonic. Davenport and the flight surgeon wait with Savage until they get the word that the target has been destroyed. Davenport tells Savage that he has done all he could. When the plane engines are heard overhead, Savage lets go and falls asleep.
It is 1949, and Stovall places the Toby mug in the old officer's club. He slowly rides away on his bike.
Notes
The Robin Hood Toby mug showed up in the Valley of the Dolls (1967) but has since disappeared.
Some of the planes that were used for the film were used during the atomic test on Bikini Alto in 1946, and the crews were limited in how long they could stay inside.
The title Twelve O'Clock High has a very specific meaning. If you are sitting in the pilot seat straight out would be 12-o'clock, straight down your right wing would be 3-o'clock and 9-o'clock would be down your left wing. 6-o'clock would be directly behind the plane. Then you add high, low, or even and you can quickly point out a direction and elevation. So, 1-o'clock low, would be, slightly to the right and down. This system allowed the rest of the crew to quickly spot an enemy. A bit of time that could make the difference between living and dying.
By the Korean Conflict, American pilots were flying jets with a large aft exhaust port. This became known as your "Zero" in addition to still being called your six. As in, I have a boogie on my zero (tail). One tale from this war tells of a pilot repeatedly screaming into his microphone that he had a boogie on his zero. A calm voice over the radio told him to "shut up and die like a man."
World-Famous Short Summary – Shut up and die like a man
I hope you enjoyed today's show. I really appreciate you spending the time listening. You can find connections to social media and email on my site at classicmovierev.com. There are links in the podcast show notes as well. This is an independent show, and there is a lot that you can do to help out. First, and most importantly jump over to Apple Podcast and give me a review. It really helps the show get found. If you want to comment, help, or recommend a movie, email me.
Beware the moors

---
[1] https://www.imdb.com/name/nm0058905/bio?ref_=nm_ov_bio_sm
[2] https://www.imdb.com/title/tt0041996/?ref_=tt_pg
[3] https://www.rottentomatoes.com/m/1022172_twelve_oclock_high
[4] lhttps://www.nytimes.com/1950/01/28/archives/the-screen-in-review-twelve-oclock-high-realistic-saga-of-the.html
[5] https://www.imdb.com/title/tt0041996/faq?ref_=ttawd_sa_1
[6] https://shop.mightyeighth.org/wwii-toby-jug/
(Visited 12 times, 1 visits today)